New Rustic Wedding Cakes with A Modern Twist
There are so many wedding cakes options for the rustic wedding. For a more updated look, free yourself and think beyond the classic pine cone and twig motif.
Natural Details
But hey, let's face it, natural details will always be a classic choice for rustic weddings. Update the look with modern, white on white details, and organic green berries. Or for a mid-century modern look, go with a kitschy bird cake topper.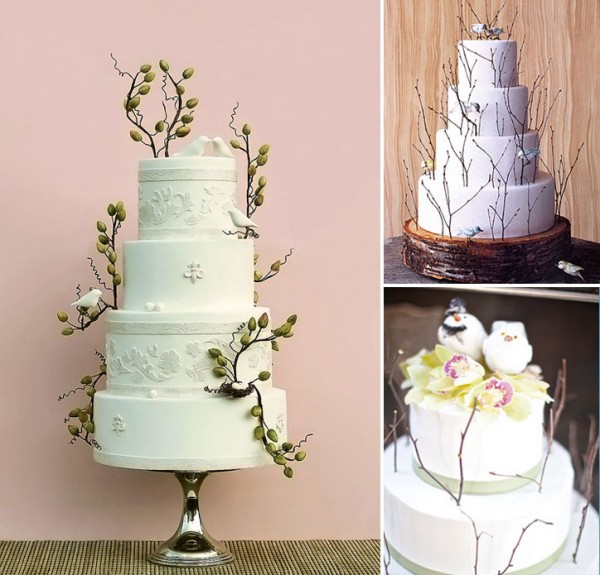 Left: Art and Appetite Top: Rebecca Thuss via Wedding Paper Divas Bottom: Marin Kristine via The Wedding Chicks
Small Cakes
Small can be so sweet, and sweet can be so rustic. Incorporate a couple of small wedding cakes amid your cookie or dessert table to honor the tradition of having a formal wedding cake while still having fun and offering variety with a dessert or cookie bar.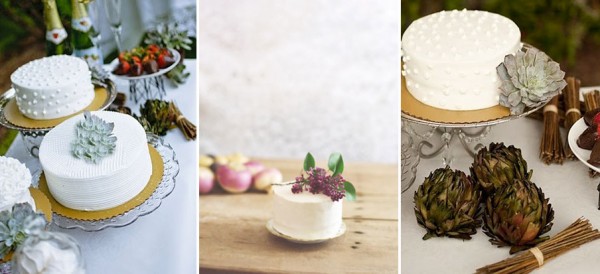 Century City Floral Market | Tec Petaja via the Brooklyn Bride | Century City Floral Market
Painted Cakes
Yup, there here again. Last week I blogged about how
painted wedding cakes
are so modern, but this week I wanted to show you that painted cakes can be woodsy and rustic too. Seriously, whether your a modern, rustic, elegant, or offbeat bride, you cannot go wrong with a custom painted wedding cake.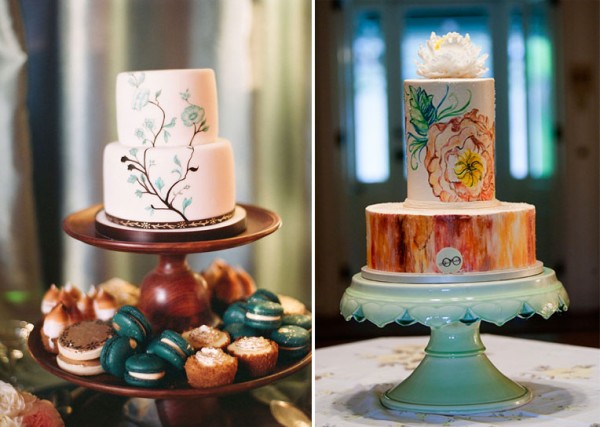 Aaron Delesie via Style Me Pretty | Darker Shades of Brown Photography via The Wedding Chicks
Hand Crafted
Ahhhh this is so near and dear to my heart in so many ways. 1) I'm an avid baker, and 2) I love the thought of family and friends making homemade wedding treats. As a cake baker, I can say there is nothing more joyful than contributing a cake to a wedding.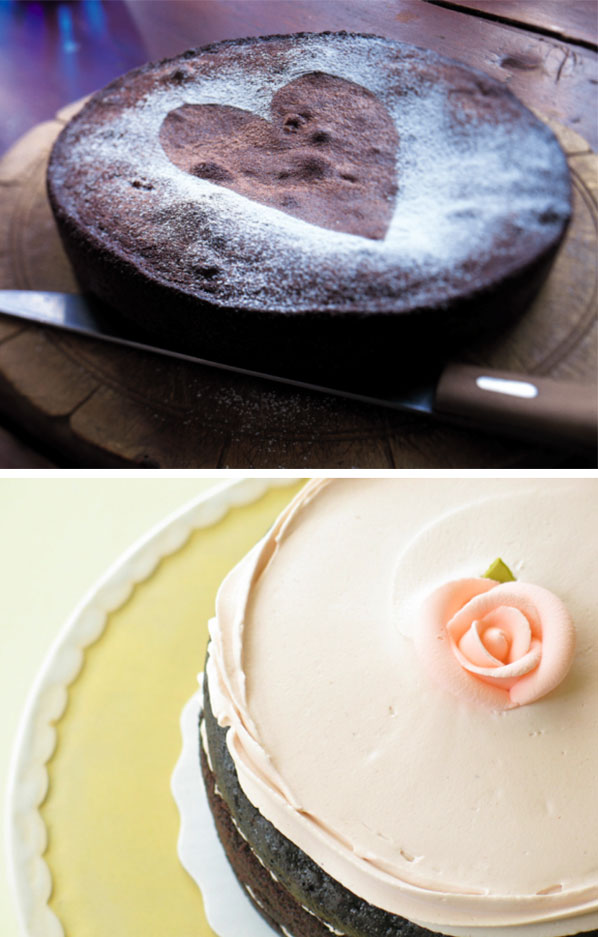 Top: Sweet Paul via The Sweetest Occassion Bottom: Miette via Simple Song
But you can still ask for that handmade look from you baker. One of my favorite styles currently is the stack cake, which is a traditional wedding cake in the southern mountains.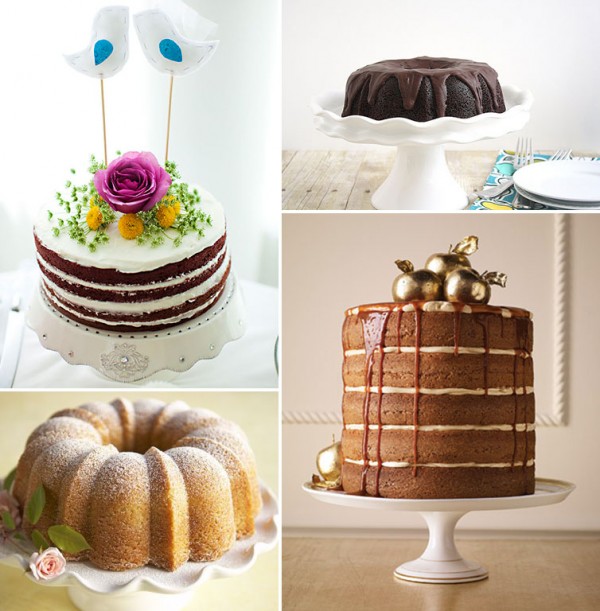 First Row: Tara Swain Photography via Style Me Pretty | Tracey's Culinary Adventures Second Row: Williams-Sonoma | Martha Stewart Weddings via Glamour and Grace
Rich Texture
Lots of texture, whether with butter cream or chocolate curls always add a casual rustic flare to wedding cakes.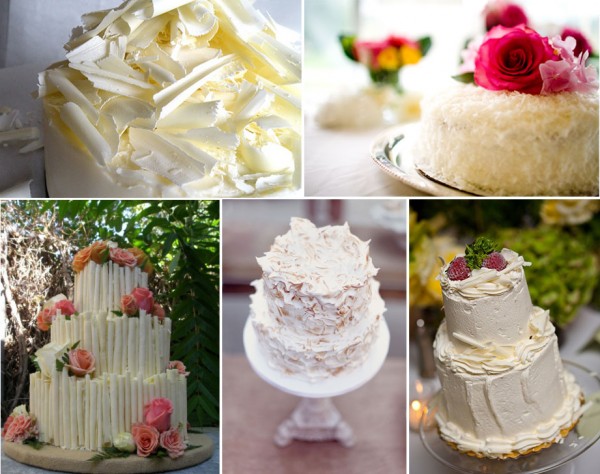 First Row: Simmer 'till Done | Docuvitae Photography via Style Me Pretty Second Row: Sedona Wedding Cakes | Simply Bloom Photography via Style Me Pretty | Valley & Co
Texture + Color
Add a bright pop of color to that texture and you've bumped it up a notch. In particular, I love that purple ombre cake!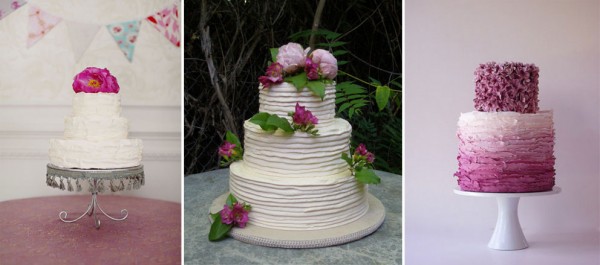 Kay English Photography via Style Me Pretty | Sedona Sweet Arts, Jose Villa Photography via Backyard Bride | Maggie Austin via Austin Wedding Blog
Wooden Details
You can never go wrong with wooden details at a rustic fete, whether it be a classic wooden round or a funky, retro wooden topper.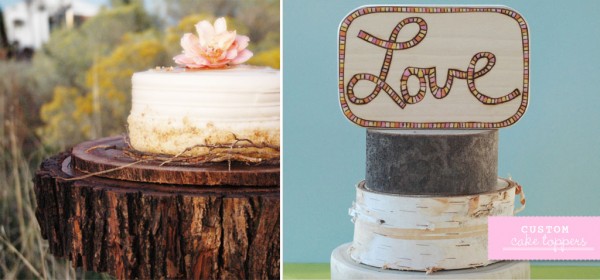 Roxy Heart Vintage via Emmaline Bride | Star House via The Wedding Chicks
Cake Alternatives
Some people just don't like cake, be it wedding cake, homemade bunt cake, or cupcake. For those of you who want a sophisticated alternative to the dessert or cookie bar, consider a cheese table with artisan rounds artfully arranged like wedding cakes and desserts.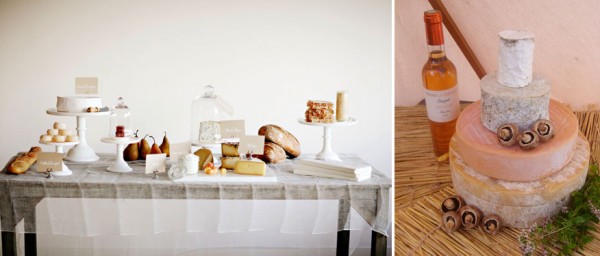 Sunday Suppers via Hindsight Bride | Artisan Cheese
Hope you're thoroughly inspired! MWAH! Christie O. {Hindsight Bride}