We love seeing our Lake Tahoe wedding planning peers on the other side of the event, celebrating their own nuptials. This wedding is no different as we are excited to showcase Danielle of Elise Event's Ritz-Carlton Lake Tahoe wedding. The day was nothing short of magical with every moment captured by Theilen Photography. All of the beautiful, unique details that made this day so beautiful are thanks to vendors like Art in Bloom and Greco Rose Beauty. And those bridesmaid dresses, just wow!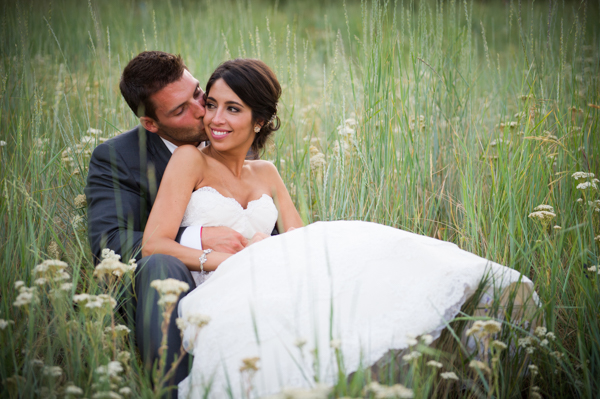 From the Bride~ One of my very favorite aspects about being a wedding planner is getting to know my couples. The relationships that I build with them generally becomes a long lasting friendship! The very best part of finally reaching that couple's day, is seeing their personalities as a couple come through in their wedding: the overall design, little touches, details, and elements that really portray their unique personalities.So, when it came time for my own special day - I knew very well that I not only wanted to throw a rad weekend, but one that really signified 'us' to all of our closest friends
My Husband, Kyle, and I grew up in Marin County, (where most of our guests traveled from) and both spent many summers at Lake Tahoe. My parents own a second home in Tahoe City, and so many of my favorite memories are surrounded around this beautiful place, so we knew Tahoe was the perfect place from the get go! One of the best things about a destination wedding is that it truly is an event, and allows for a full weekend of activities and celebration.Kyle and I wanted our family and friends to have the opportunity to get to know each other. We welcomed our wedding weekend off with a Kick-Off Party at a local wine and cheese bar, Thursday evening, where family and friends enjoyed drinks and appetizers outdoor by a fire pit. A casual setting allowed for an intimate meeting of both families!Friday we invited all of our guests, 150, to float down the Truckee River. This was by far one of our favorite memories from the weekend! Piled into rafts, we packed all the necessities for a fun day: drinks, food, water guns (of course) and played like kids all day! As you could imagine, things may have gotten crazy at times - but it was a great setting for the group to let loose, enjoy all the beauty Tahoe has to offer, and goof off! That evening, we hosted an intimate family-style Rehearsal Dinner at Stella Restaurant, Cedar House Sport Hotel. Stella's chef created a unique Mediterranean style menu, an ode to our Honeymoon in the Greek Isles!
The night was filled with lots of tears, laughs and best of all: our families' company! Concluding the rehearsal dinner, we invited the entire wedding party to join us for dessert and drinks before the big day! Both excited and exhausted, we retired to the Ritz-Carlton, where the groomsmen and bridesmaids took to their own suites for a last night of 'hooray'. Kyle and I both loved spending the night before the wedding with our closest friends - such a special moment!As we all know, on the morning of the wedding there is an awful lot going on! I arranged a peaceful morning with my girlfriends where we enjoyed a quiet breakfast before the craziness kicked off. But don't you worry, the balcony from our room allowed complete view of set-up and YES, I most certainly peeked outside to make sure everything was just so. With our mimosas in hand, Plumb Pretty Sugar robes on, and lots of face moisturizer - we were ready to be glammed up! One of my favorite elements from the wedding day were my bridesmaid's dresses, designed by Yoana Baraschi! The dresses were a soft ivory to nude ombre color with an intricate lace applique! Just like boys do... They played all morning at the spa and pool, while we primped!On the day of the wedding guests were shuttled to The Ritz-Carlton where they enjoyed pre-cocktails before the ceremony.
We had a traditional Jewish ceremony, saying our "I do's" under a gorgeous organic Chuppah. The Chuppah was laced with my late Grandfather's Talit, a very special and emotional tribute. Our cantor from our Temple in Marin traveled to officiate our wedding. Seven of our loved ones took part in reading the seven traditional Jewish blessings. We both felt it was very important to write our own vows to each other - something we hold very dear to our heart! It was very important to me to find a special way to have him with Kyle throughout the day. I had a small patch of plaid fabric from one of his Dad's favorite shirts sewn into his jacket. Draped in my talit from my Bat Mitzvah, our cantor blessed us, Kyle broke the glass, and we were husband and wife! Kyle's father passed away from ALS a couple months before we began dating.Immediately following 'Mazel Tov', the sky roared and down came a hailstorm. During Cocktail Hour, guests huddled under blue umbrellas, drank, ate and laughed as it dumped rain! And as quick as the storm arrived, it left!I have always been a sucker for an outdoor wedding! A tented soiree was a must for us; guests dined on a mixture of long wood farm tables and rounds, draped in La Tavola's French inspired linens under a gorgeous canvas canopy tent created by Zephyr Tents.
Hattie from Art in Bloom Floral, created the most romantic mixtures of soft, natural florals, mixed mercury vessels, organic wooden boxes and candelabras! Our table numbers were handmade by my mother and I; we had one of those playful craft days, hand-painting 16 table numbers/lanterns, of course, with wine in hand! All of the wedding day paper goods and calligraphy were created by me! Another wine-filled craft day at best!
Our closest friends and family entertained guests with some of the most beautiful toasts I have ever experienced! Lots of tears and laugh later, we stuffed our guests with miniature Bailey's Smoothies, Passed Ice Cream Cones and danced the night away! Come Rain or Shine, it was truly the most magical day in one of the most beautiful places in the world!