We have some great tips to share with you on boutonnieres from our floral extraordinaire, Hattie Reed with
Art in Bloom
! Hattie gave us great tips for applying boutonnieres, what's trendy for men's lapels, and boutonniere etiquette. Read on for all the latest tips and advice!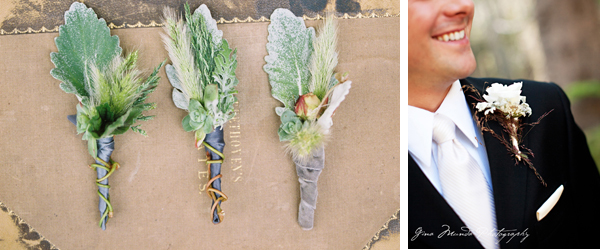 Images courtesy of Jose Villa Photo & Gina Munda Photography
What's the best way to pin a boutonniere without destroying the tux? I prefer to use 2 bout pins and start from behind the lapel keeping the pins out of sight. Both pins should be directed into the top of the bout stem without allowing the pin point to exit the boutonniere. For ring-bearers 4 years old or younger, I use safety pins instead of straight pins.
What is the appropriate side to pin one on?
I always pin to the left lapel. Boutonnieres can not be worn on any type of Military Uniform.
Who typically wears them?
Groom, Groomsmen, Ring-bearers, Fathers, Stepfathers and Grandfathers of both the Bride and Groom. Ushers only if in a suit or tux. Brothers, Uncles and relatives of the Bride and Groom who are not in the ceremony do not need to have a boutonniere. There are always very important family members and friends that are worthy of being honored at the wedding with a boutonniere or corsage, just keep in mind that extending this honor to one side of the family means you need to extend it to the other side of the family as well. Of course all cultures have their own traditions and etiquette, some including all family or sponsors of the wedding.

Images courtesy of Pinterest & Ruffled Blog
What flowers are the best for lasting all day long?
Calla lilies and orchids will perform flawlessly for long wedding celebrations even in the summer heat . Select rose varieties can also be reliable if you limit direct sun exposure before the ceremony. Avoid using gerbers, dahlias, tulips and hydrangeas for boutonnieres. As a wedding specialist, your florist will assist in choosing the right flowers.
What do you suggest for groomsmen who aren't wearing jackets?
A boutonniere can be worn on a vest but not on a shirt alone. For pocketed shirts a 'pocket card' boutonniere can be inserted into pocket. A
Maile Lei or Ti Leaf Lei
is a great alternative as well.
What are the different styles and which ones are most popular?
Over the years
Callas
have been the favorite flower for boutonnieres by most Brides and Grooms due to their clean and sophisticated form. Boutonnieres should always compliment the style and design of the bouquets. Where a traditional boutonniere hosts a flower as it's focus, many Grooms prefer a more masculine style consisting of natural elements like foliage, berries, aldercones or herbs. For a tropical or beach theme wedding, a
Maile lei
can be worn in place of a bout.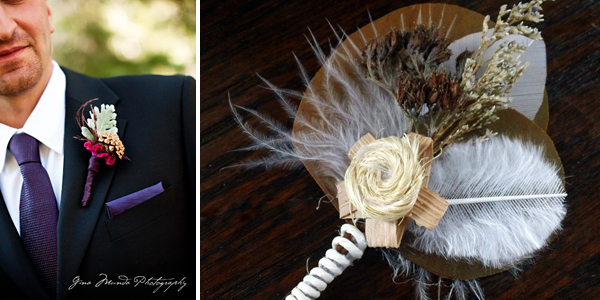 Images courtesy of Gina Munda Photography & Etsy Shop Cherubino Crafts
Are there any new trends you are seeing with Boutonniers?
My couples have been really excited to see our non-traditional boutonnieres that we form from decorative metallic jeweled wires creating a contemporary piece of art. I have had several more crafty brides recently who made their own boutonnieres out of felt material and satin ribbons following patterns they found online or in magazines. Antique buttons and vintage keepsakes were used as the centers of the artificial blossoms. *Thanks for all the great tips Hattie!