We so often see weddings on the shores of Lake Tahoe, but it's not everyday that a Donner Lake wedding shows up. Julienne and Nick hird Lake Tahoe wedding planners,
Summit Soiree
to plan and design their their vintage farm inspired wedding at West End Beach, and the look is completely stunning. This couple has such great style; from their attire to the produce table numbers, centerpieces and
Camelot Party Rentals
' cleartop tent, we are loving it all! There are some really beautiful images in the gallery by
Eric Asistin Photography
and the bride describes her day below: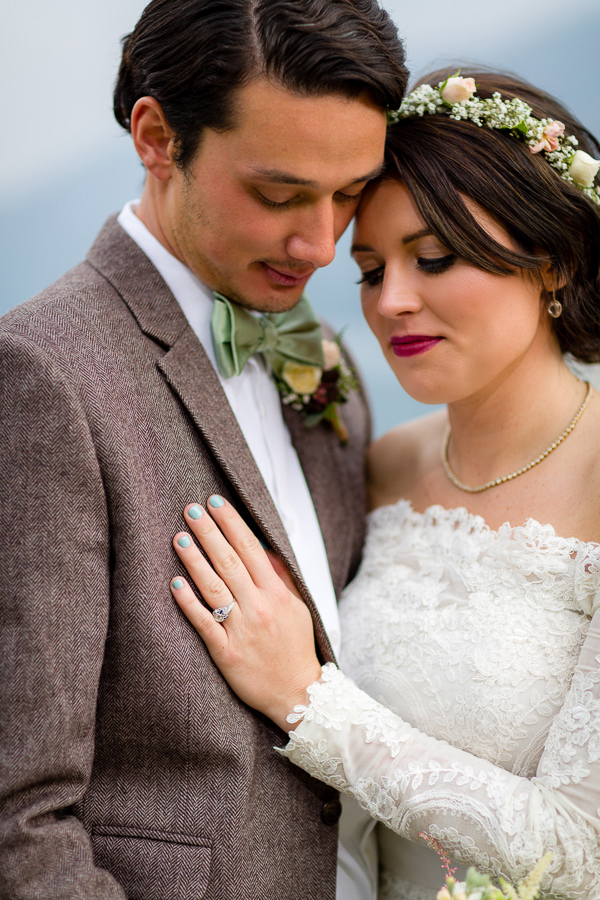 How They Met
Nick and I met in boarding school in Santa Cruz our sophomore year of high school. I only stayed 6 months but we kept in touch after I left and started dating once we got to college.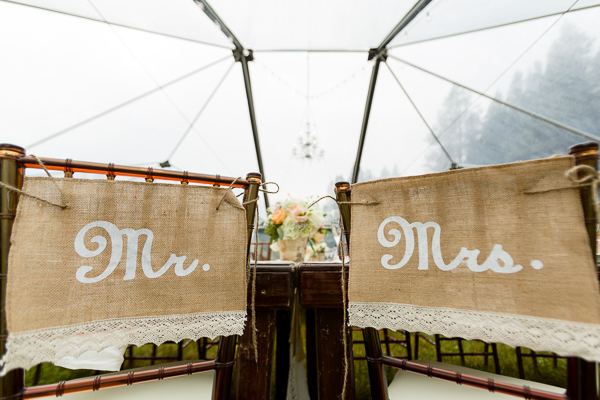 The Proposal
We were snowshoeing on Mt. Hood with our two dogs when he proposed. We had brought Chipotle burritos for lunch and he took me to a meadow to eat. I told him it was too early to eat and we would just get tired from the burritos but he insisted he was hungry. He held my hands and told me how much he loved me and so I gave him a hug and could hear his heart pounding and that's when I knew what was happening. I don't even remember him getting down on one knee but there are go pro pictures to prove it. It was beyond perfect.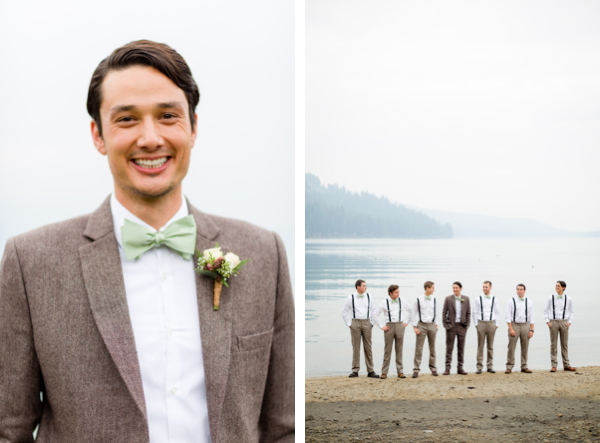 The Venue: Donner Lake
My parents bought a house in Tahoe Donner when I was very young and we were always driving from Southern California to spend time there. Some of my best memories are in the Tahoe area with my family. We sold our house but we still loved to go up there. I introduced Nick to Truckee and he felt the same way about it that I did because it has all of the outdoor activities that we love and is very dog friendly. We have kind of deemed Truckee "our place" because both grew up in different towns but share a mutual love for it so we decided it would be the ideal place for our wedding. We would always take midnight trips to the docks on Donner Lake to watch the stars and cuddle so we were very happy to find a venue that would allow us to have our wedding on the lake. I
also always knew that I wanted to have everyone stay at one big house for the whole weekend. So we rented the North Tahoe Lodge and partied all weekend.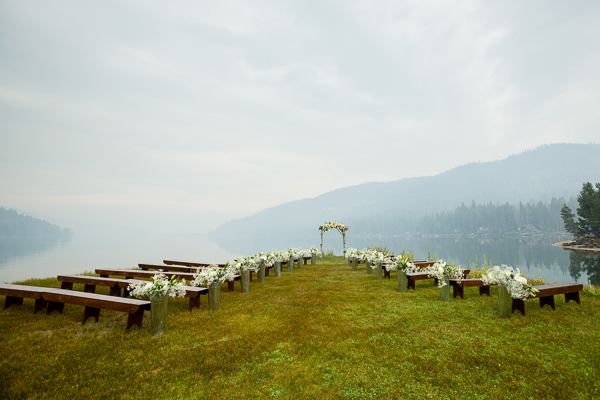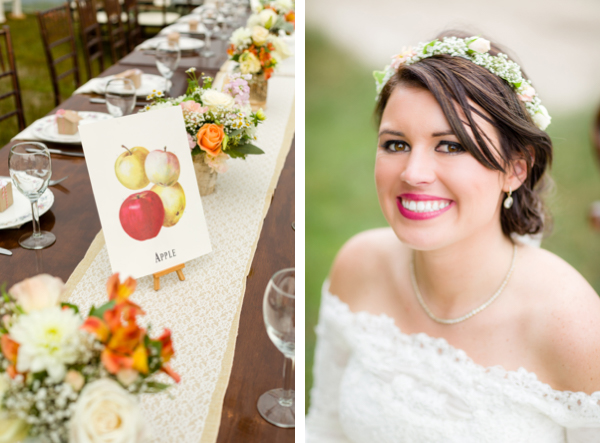 The Decor
I chose any and all pastel colors for my wedding. I guess I would call the theme "vintage" but only because that's what everyone told me it was. I just chose everything that I liked. For special decor we rented a few antique pieces from Forever Vintage including the chandelier in the tent, the ivory couch, a chandelier style lamp, and a panel made out of three vintage doors. We had the lemonade stand that Nick made, the old windows that my mom decorated, a type writer that my mom bought, a little old wooden chair that my mom decorated, wine barrels for cocktail tables that we rented, and a few other things that I am sure I am forgetting.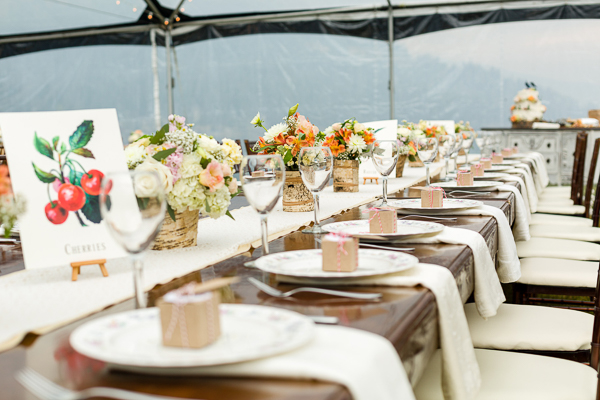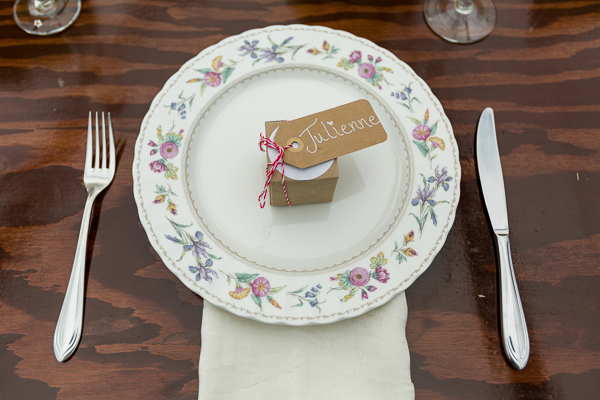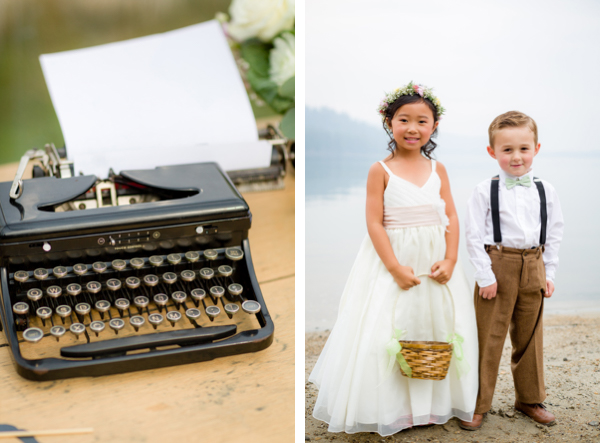 The Ceremony
We had lots of special touches for our ceremony. Nick built this amazing lemonade stand from recycled wood and guests sipped on lemonade before the ceremony started. My dad brought up his 1964 mustang and drove my sister and I up to the aisle in it. We walked down the aisle to Sierra Strings playing "Young and Beautiful" by Lana Del Rey. My mom made the aisle flower arrangements which were gorgeous. We had a bridesmaid walk our dogs down the aisle. Ellie wore a collar made out of flowers and Mowgli wore a bow tie. Ellie accidentally ended up under my veil but just laid there and that was one of the best parts. My cousin and a groomsman sang "Looking Back" by Hey Marseilles. My dad played "Marseilles" by Hey Marseilles on the piano for us. It was very special to us. Our officiant was a close family friend and he surprised us at the end by saying "you may now kiss the groom" which made us all laugh.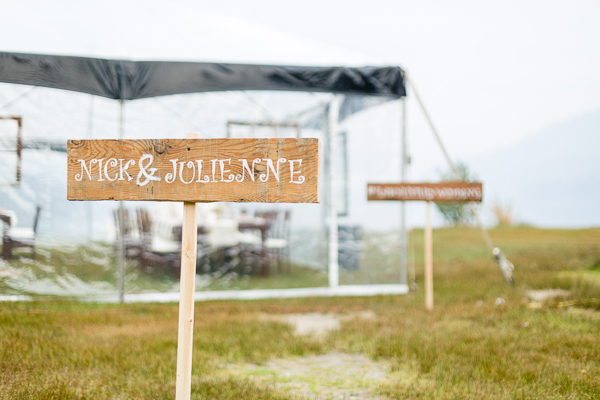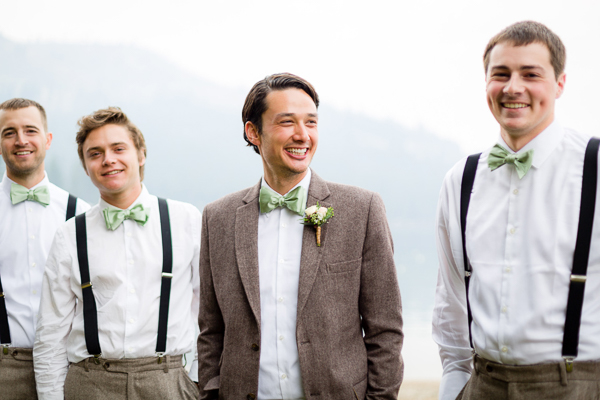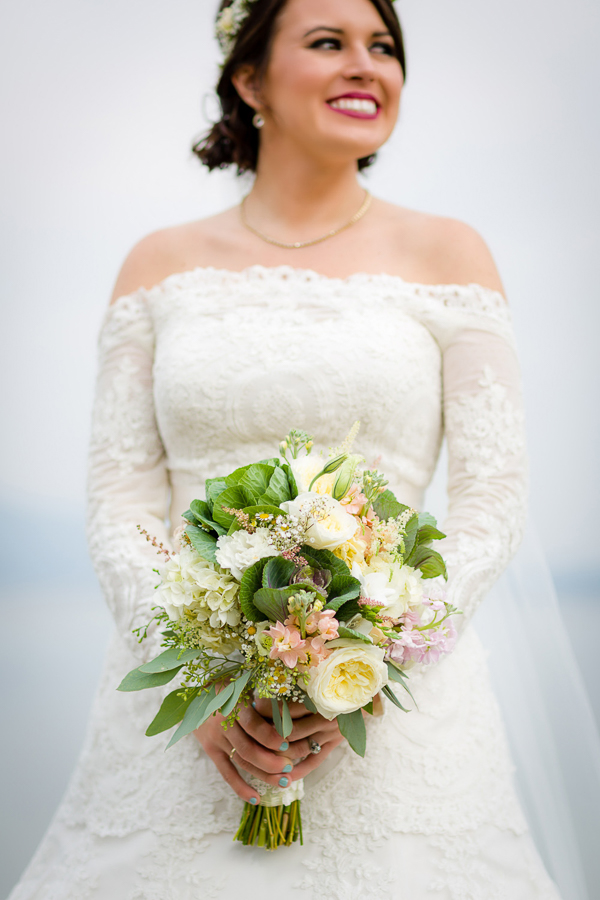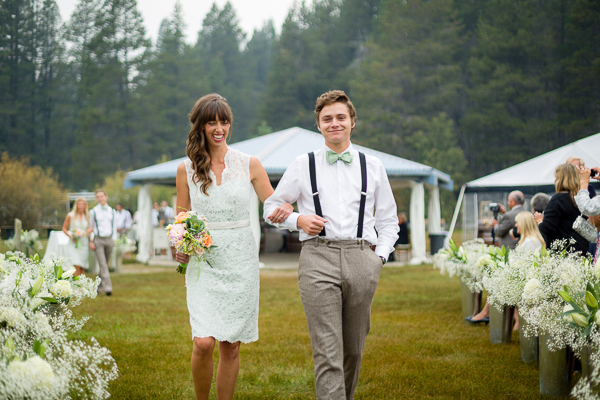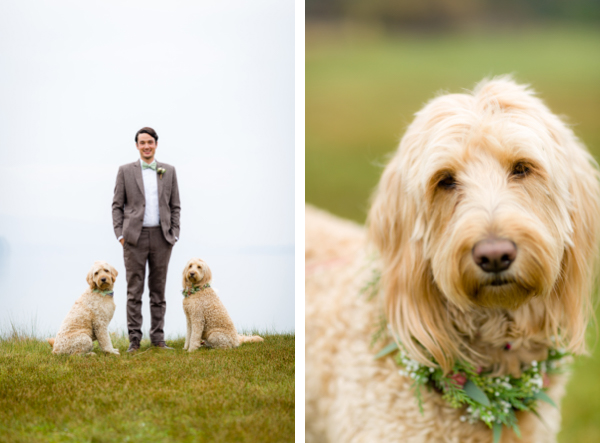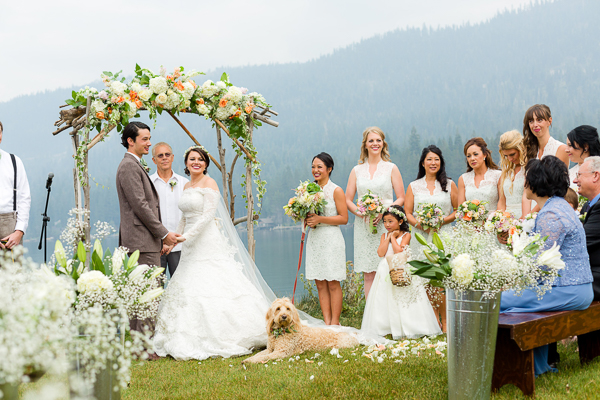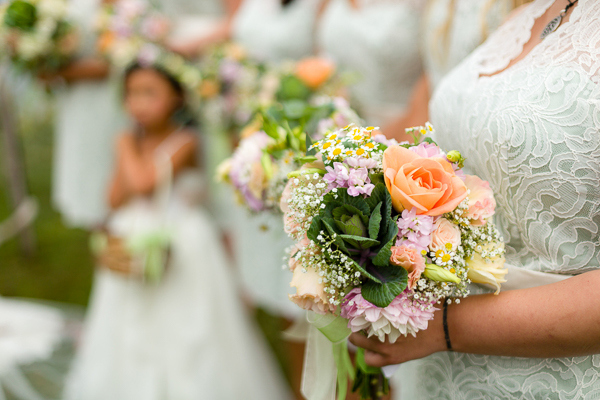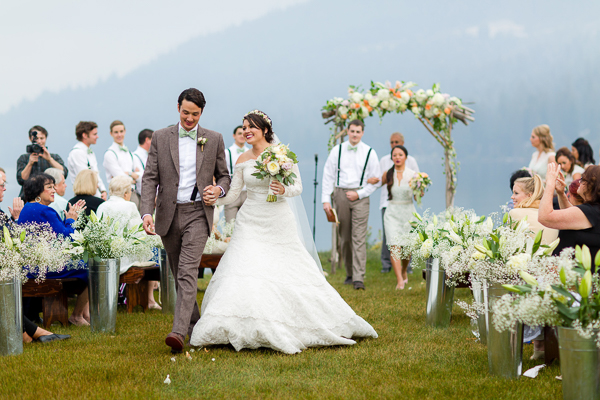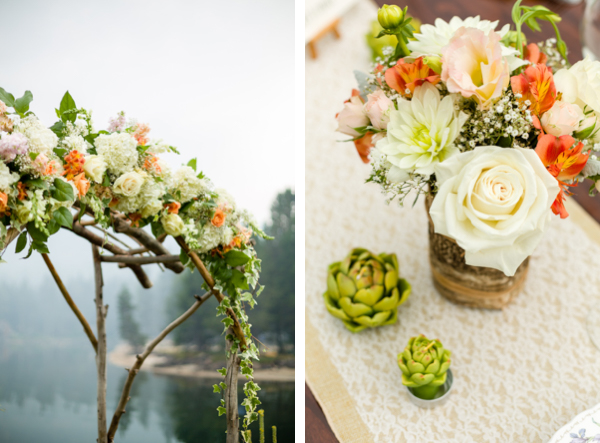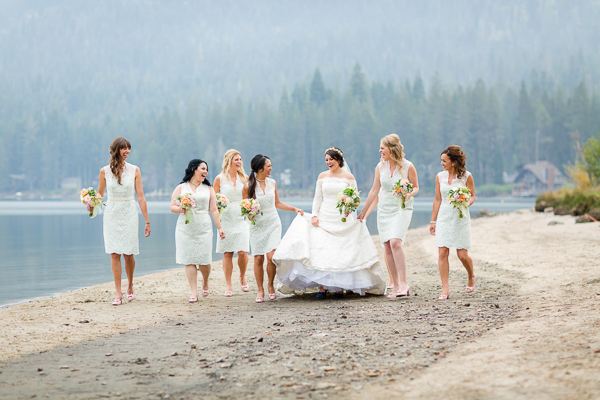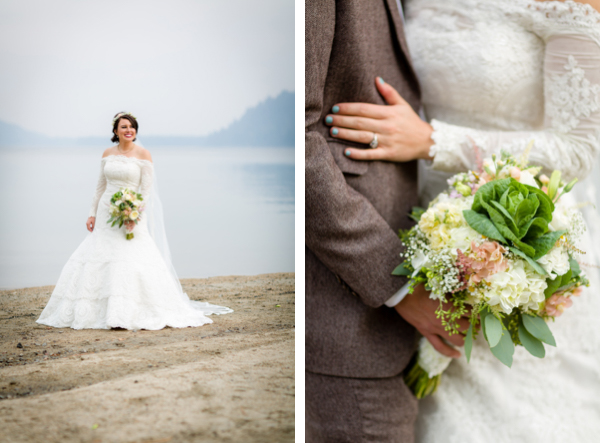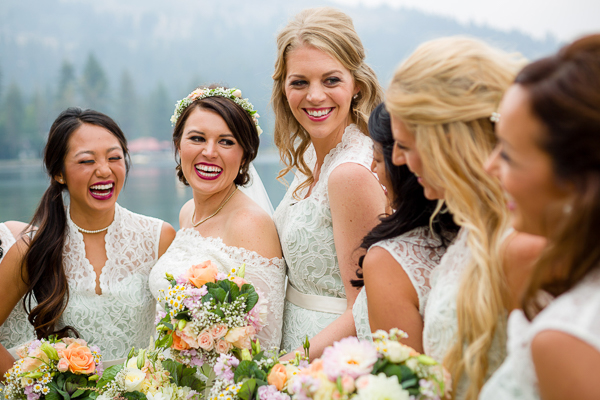 The Reception
We had a bit clear tent with a chandelier set up for the reception so we could still have the gorgeous view of the lake. I surprised Nick with a grooms cake which was a burrito. We had crows as our cake topper because I have an odd love for crows. We had all of the guests send in their wedding photos and we hung them up for everyone to look at. The food was all vegetarian because Nick and I don't eat meat but no one complained because the food was delicious! Nick and I had our first dance to "Your Song" from Moulin Rouge. My dad and I danced to "Quelqu'un M'a Dit", a French song by Carla Bruni. Nick and his mom decided to skip the mother and son dance because they hate dancing. We had an antique ivory colored couch that was set up in the corner for the photo booth. My mom wrote the menu and the seating chart on old windows with a white paint one. It looked so pretty! We had to be out of he venue by 7 so we all packed up and drove to The North Tahoe Lodge where we danced, ate fancy doughnuts and had a huge game of flip cup! Even the flower girl played, with juice of course! We had lights strung up on the outside deck and it was such a magical place to end the night.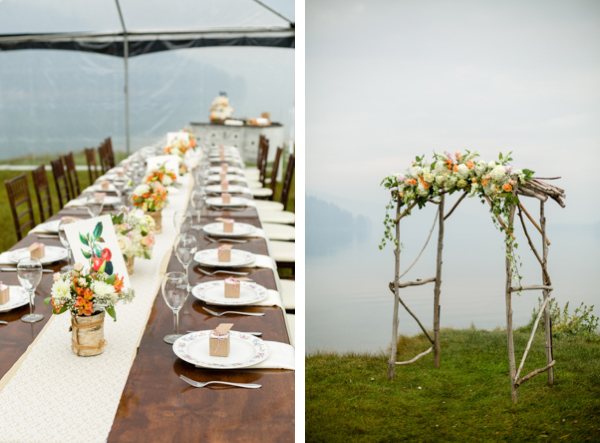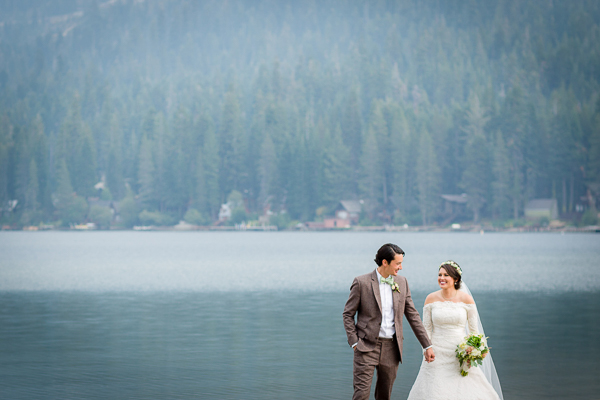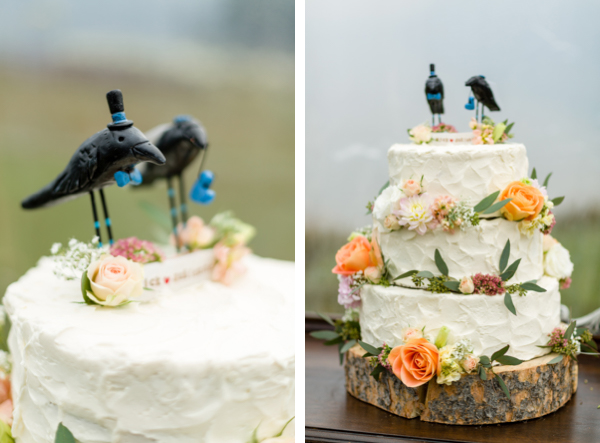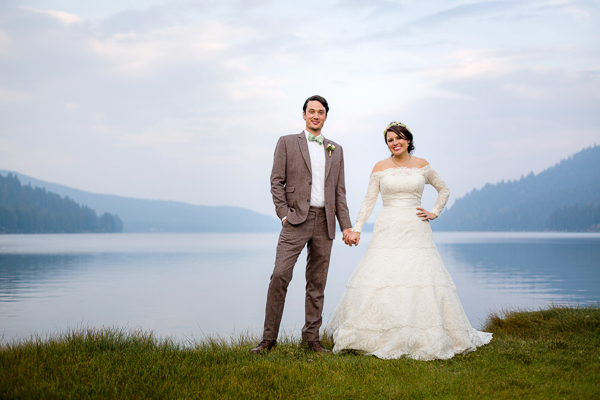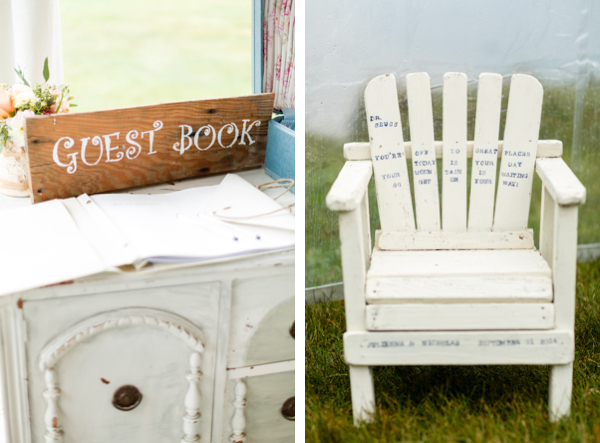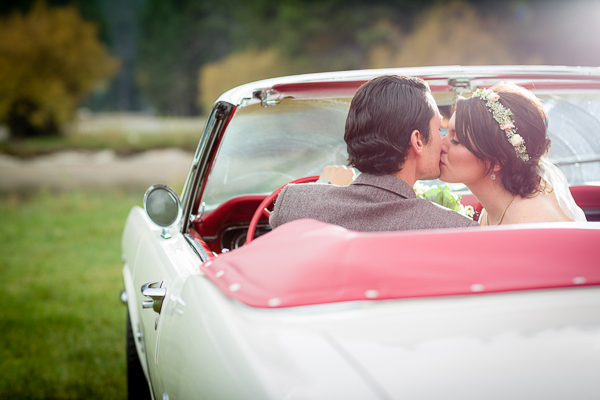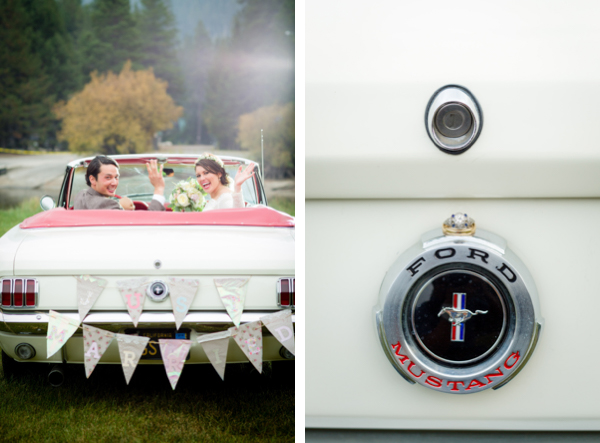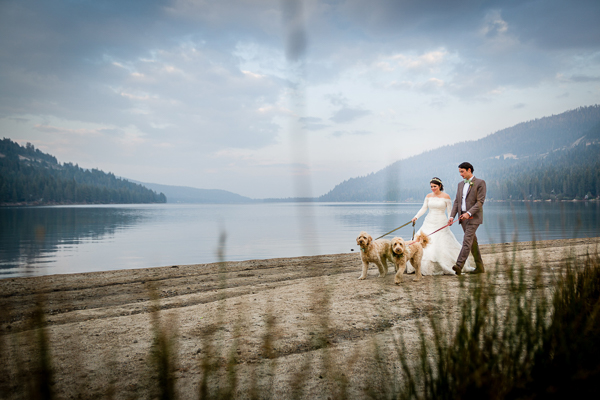 From the photographer, Eric Asistin ~
Fire season arrived late to the Tahoe area as the King Fire was set ablaze which unfortunately put many in an uneasy situation. Thick smoke riddled the areas around the northern front of the fire lines and unfortunately spilled over into the Truckee Basin. However even with the smoky conditions, it would not put a damper on Julienne and Nick's wedding day at West End Beach on Donner Lake. Making the best of the situation, the smoke was thick, but lifted just enough to offer up pacific northwest style lighting conditions for their day. The smoke acted as a natural scrim and softened the light just enough for a very classic look. We couldn't have lucked out more as it really went well with their vintage theme of the day. They had so many cool details from the addition of their two Goldendoodle's "Mowgli" and "Ellie", vintage couch and a classic convertible Ford Mustang. Not phased in anyway due to the fire, Julienne, Nick and their guests had a wonderful day! Big thanks to all the vendors who made their day a big success (vendor list at the bottom of the fold). Congratulations Julienne & Nick!
Lake Tahoe wedding vendors: Photographer :
Eric Asistin Photography
| Wedding Coordination :
Summit Soiree
| Ceremony & Reception Venue :
West End Beach Donner Lake
| Accommodations :
The North Tahoe Lodge
| Hair & Makeup :
Julia Hanson
| Photo Booth :
EA Photobooths
| Videography:
Attaboy Pictures
| Rentals :
Camelot Party Rentals
&
Forever Vintage
| Florist :
A Rose is a Rose
| Sound :
Crux Events
| Strings :
Sierra Strings
| Catering & Cake :
Real Food Tahoe
| Calligraphy : Tammi Brimmer | Invitation Designer :
Beholdz Designs
| Linen :
Creative Coverings
| Groom's Attire:
Harry Suits
| Bridesmaid Dress Designer:
Dressy
| Bride's Shoes :
Mod Cloth
| Wedding Gown Designer :
Allure Bridal