This is not your average West Shore Tahoe wedding. No, this fall time West Shore Cafe wedding from MAP Events goes above and beyond in beauty and elegance. Accented with intricate florals, just right for the season, it was the perfect Tahoe wedding day. See it all from Kate Webber Photography in the gallery below, with special commentary from the bride.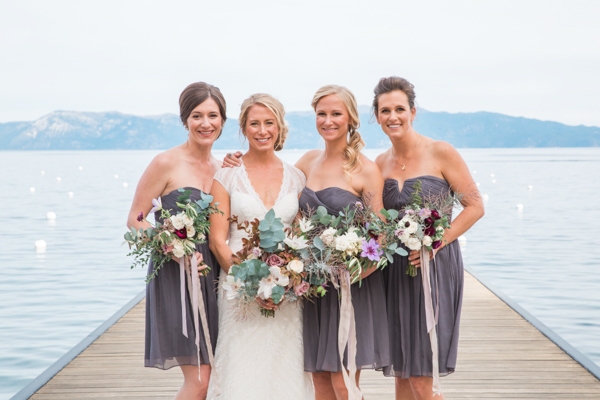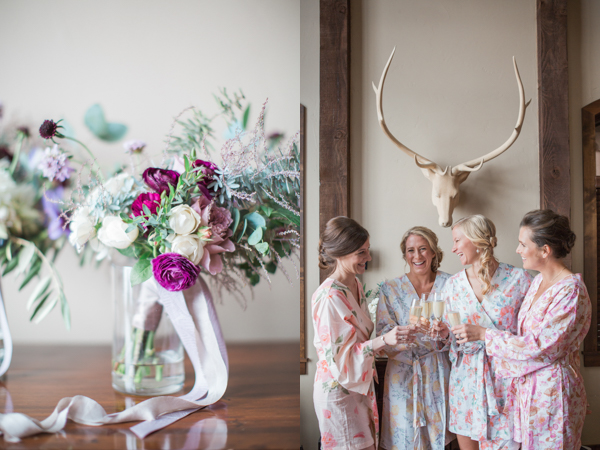 When Evan and I think about our wedding day, we get such a warm, fuzzy, joyful feeling. There is not a single thing that we would've changed about any of it, and we still say all the time that we wish we could relive it again and again. It was flawless and the credit goes to our planner, Melissa Panico or MAP Events, and the incredible team of vendors we had.
Having Melissa was essential for me and Evan. I had never envisioned what I wanted our wedding to be like and I knew nothing about the process of planning a wedding or the wedding industry. She was a total pro- it was such a relief to know that she was in charge of the details. She really understood our vibe and helped me make decisions that could've taken me down a rabbit hole.
I also cannot say enough good things about Kate Webber, our photographer. From the day we met her for the first time over a drink, we knew she was a super cool person. Having her around on the day of our wedding was so great. She and her assistant were calm, fun, funny, and also kept us on schedule. They were also practically invisible. My mom remarked the following day that she never saw them! The end results blew me away. We will treasure our pictures forever- they perfectly captured the day and are simply stunning.
When we got engaged, we looked at several venues in the Bay Area, but once we visited the West Shore Cafe, we knew it was the right place for us. We love the mountains and spend most weekends skiing in Tahoe in the winter, and we thought getting married on the shore of Lake Tahoe would be absolutely stunning, serene, and perfect for us. It was easy enough for our San Francisco friends and family, and Reno was a convenient place for out-of-owners to fly into.
Natalie Brookshire and her team nailed the flowers; they were simply gorgeous. The large arrangements at the end of the aisles, my bouquet, the centerpieces... all of it felt so organic, natural, and beautiful. Plus she's such a lovely person. I just loved meeting with her and her team. Andria Sato of Lillikoi Letterpress designed our invitations to perfection. Katie Nash and her assistant Alicia made the "getting ready" time so fun and relaxing for the girls.
Choosing West Shore Cafe instead of private lakeside properties made everything so much easier- no portable bathrooms or building a kitchen for caterers! Also, the people at WSC were so lovely and our guests raved about the food.
The most fantastic thing about our whole wedding day was that it felt completely like "us", and all of our guests said the same thing. Choosing our brother-in-law to officiate, and having some really special readings made everything feel so personal. We were both amazed at how much fun we had during our ceremony! The bluegrass trio during cocktails was fun and relaxing. Plus, we were so lucky with the weather! We both felt that we were able to really absorb the day and be with all of the most important people in our lives. We felt so much love from our family and friends and are so grateful we were able pause and take it all in together as husband and wife!
Lake Tahoe Wedding Vendors: Wedding Planning: MAP Events | Wedding Venue: West Shore Cafe and Inn | Rentals: Crux Events and Classic Party Rentals | Wedding Band: KJ Allstars | Florist: Natalie Bowen Designs | Linen: La Tavola Fine Linens | Photographer: Kate Webber | Cake: Jasmine Rae Bakery | Dessert: Dorinda's in Squaw Valley | Videographer: Light the Moment | Makeup & Hair: Katie Nash Beauty | Transportation: Northstar California | Invitations: Lilikoi Design | Accommodations: Granlibakken Tahoe, The Cottage Inn, Cedar Crest Cottages | Rehearsal Dinner: PlumpJack Squaw Valley Inn | Babysitters: All About Kids Childcare