I'll just start with saying that some of my favorite wedding themes are bohemian, alternative, indie, and woodsy. And that's just the reason I'm loving today's wedding! Karen and James' Lake Tahoe wedding at The HideOut would fit any one of my favorite themes. From the diverse array of botanicals to the macrame dreamcatchers, Kate Whelan Events created a day that lives in boho-indie wedding heaven. The spectacular gallery from Sarah Maren Photography depicts a day filled with love, creativity and spontaneity.
A surprise rainstorm joined the wedding day just before the ceremony. The couple and their guests waited out the showers while sipping cocktails under the pine trees.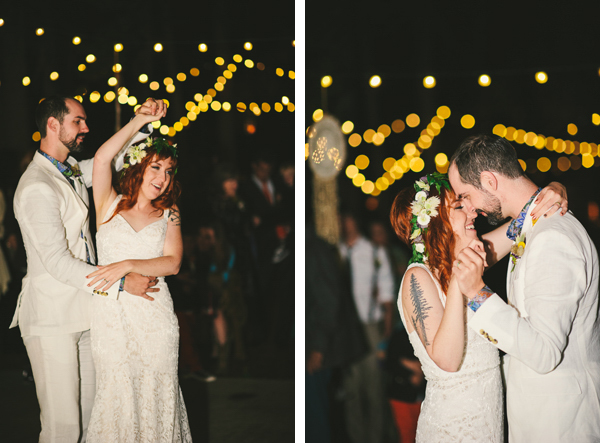 From the wedding planner, Kate ~ Karen and James were married at the gorgeous Tahoe-area venue, The HideOut in Kirkwood. Karen's bohemian dreams were realized by adding handmade dream catchers in ever nook and cranny, pheasant feathers tucked into textural flowers and even a mini teepee. The couple and their guests endured some stormy Tahoe weather by having their Cocktail Hour first, followed by their Ceremony and rocking' into the Reception, entertained by their many musical guests. From the photographer, Sarah ~ Karen and James had an AMAZING wedding at The Hideout in Kirkwood, California. It was seriously one of the most incredible weddings ever! Yes, there was hail and rain RIGHT when the ceremony was supposed to happen. But Karen and James had the Alchemy team on hand, and we moved things around and had a cocktail hour first and then once the rain passed we got these two MARRIED! It was a great night with a fantastic group of people and holy cow I LOVE this wedding!
Sources