Ooooh do we have some inspiration for you today! And this is just part 1 of our 3 part series!! Our sister company,
One Fine Day Events
, was part of the fab team of vendors behind this gorgeous design!
Bellissima Floral
and
One Fine Day Events
created three table designs with two whimsical interpretations for each set - Woodland Chic and Mountain Sleek. Woodland Chic incorporates rustic, homey, and playful touches, while Mountain Sleek designs speak of a modern, tailored, yet unexpected influence. Each set utilizes the same color scheme and concept with just a few of the details interchanged to give the overall feel either a Woodland Chic or a Modern Sleek look. One of the main goals was to illustrate how a few simple changes to detail can completely evolve the vibe of a table or design. The first of our 3-part series is titled Moody Blues! Featuring the talented
Catherine Hall Studios
,
Bellissima Floral
,
PlumpJack Squaw Valley Inn
,
La Tavola Linens
,
Celebrations Party Rentals
, and
Red Carpet Events
! On Thursday, we will also feature
XOXO's
video of the entire series. Be sure to check back tomorrow and Thursday for the other designs.
The Woodland Chic Version of Moody Blues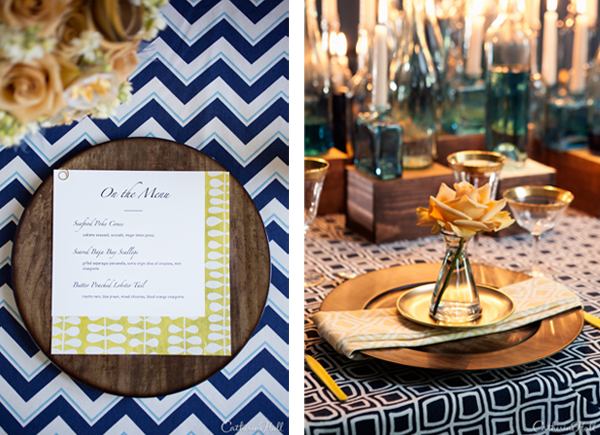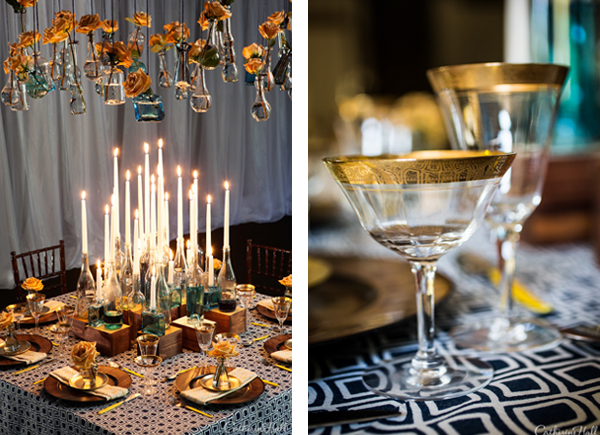 We dipped the silverware in yellow wax to create a pop of color next to the blue and gold details. The wooden chargers and candle blocks serve as the woodland features while the elegant flowers, candles, gold rimmed glassware, and linens serve as the chic features.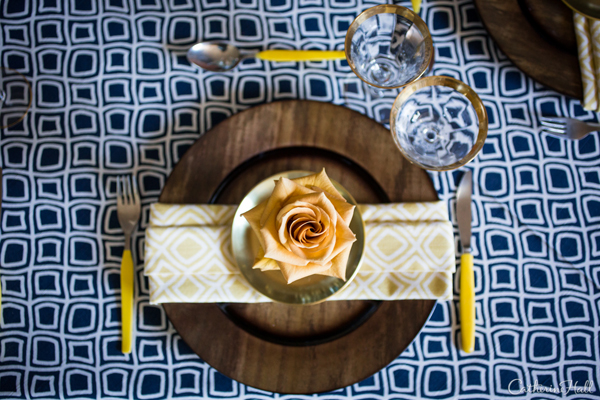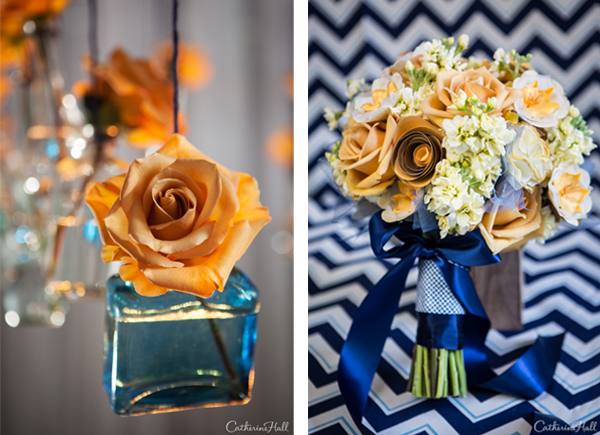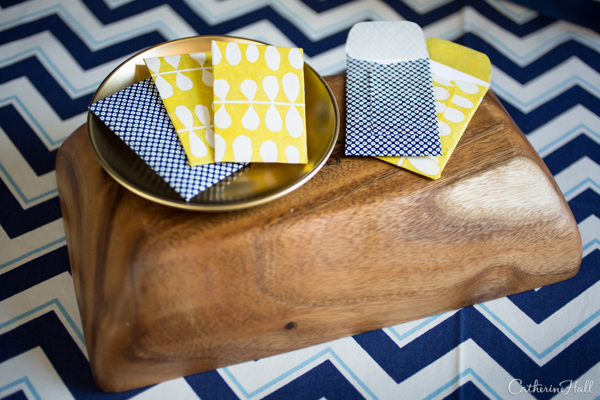 The Mountain Sleek Version of Moody Blues - just a few decorative elements were replaced with slightly more modern details to create the Mountain Sleek look. These include, switching the linen from a blue and white geometric pattern to sparkly sequins but with the geometric pattern peaking out the bottom,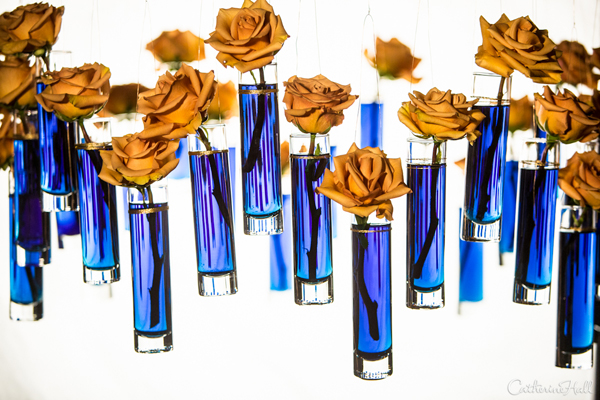 The wooden chandelier was replaced with an ornate gold halo. Instead of lights hanging from the chandelier, Bellissima Floral placed gold roses in vases with blue water.
Gold silverware replaced the yellow wax silverware, and solid gold champagne flutes replaced the gold rimmed wine glasses - both of these accents dressed up the table in a sleek fashion.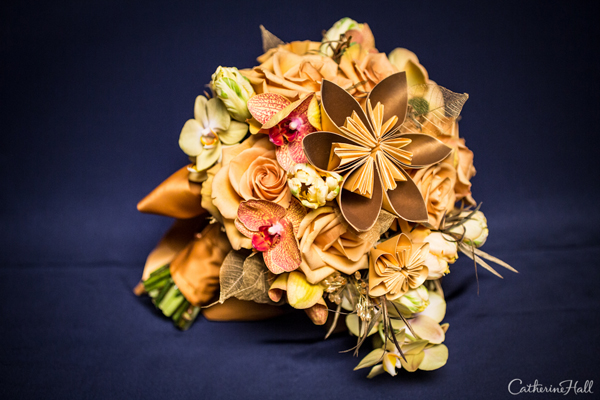 Above, a stunning bouquet made out of paper that Bellissima molded into a beautiful flower. Below, blackberries are decorated with a delicate gold leaf, floating candles decorated with a thin gold ribbon, and the same delicate gold leaf is used to add a little accent and finishing touch to the menus.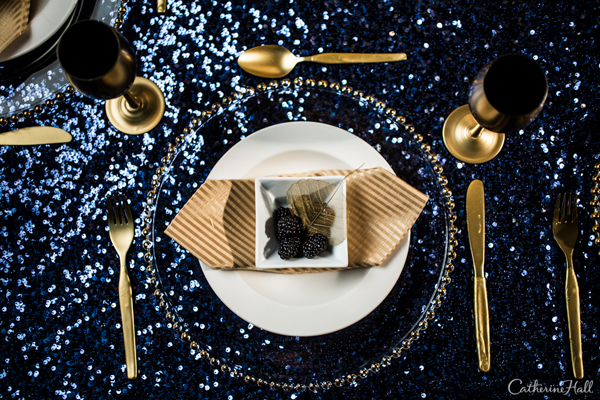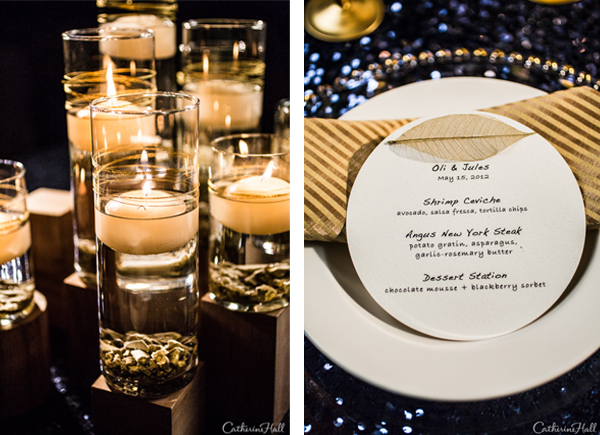 I hope you enjoy these little beauties! Thank you to the excellant team of vendors for the inspiration. Check back tomorrow for the 2nd design! Vendors: Photographer |
Catherine Hall Studios
Planner & Designer |
One Fine Day Events
Florist |
Bellissima Floral
Venue |
PlumpJack Squaw Valley Inn
Linens |
La Tavola Linens
Rentals |
Celebrations Party Rentals
and
Red Carpet Events
Cinematographer |
XOXO Studio
Paper Goods |
One Fine Day Events