With a beautiful Bride, a dashing groom, and one seriously gorgeous wedding captured by Catherine Hall Studios , it goes without saying that your Monday just got a little brighter. Every picture perfect moment of this couples' stunning Martis Camp wedding makes us want to jump right in the photo and join in on their exquisite day. Catherine Hall tells the couples' tale and describes their wedding day below: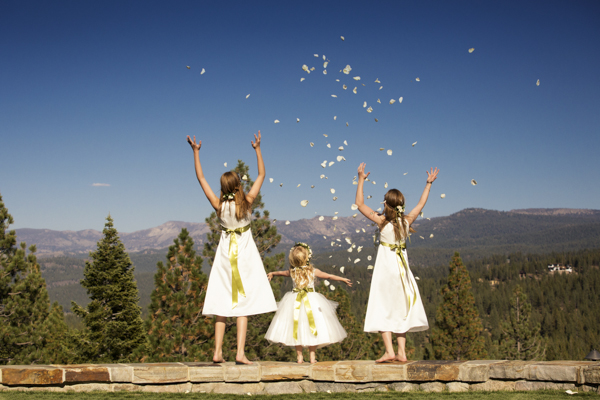 Advice from the bride: For a couple who values spending quality time with the people who matter most, understanding that their wedding would be centered around exactly that ideology was an easy decision for Karissa and Todd to come by. And if there's one piece of wisdom Karissa could pass along to brides to be, it would be to not leave the last few details for the few days before the wedding; because when family and friends start arriving in town, you definitely would rather spend quality time with them than attend to the last few details of your big day. So basically, carpe diem, as the last few days leading up to the wedding fly by in a buzz, and you want to make sure you savor the moments with those who are dear to you.
The Proposal: The kind-hearted couple met at a Leukemia and Lymphoma charity luncheon and was introduced by a mutual friend years ago. A surprise proposal later took place on Karissa's 35th birthday on their way to a ski trip in Whistler BC, where the couple enjoyed their time together and shared elated phone calls announcing their news to friends and family. What Karissa had originally believed to be just a birthday celebration had turned into the most memorable ski trip of her lifetime!
The Details: Karissa a partner at KPMG LLP, and Todd a partner at a private equity company, Alpine Pacific, knew they needed creative help when planning their wedding and were delighted to employ the expertise of Janel Ellefsen from Occasions LLC. She gladly kept the coordination of themes aligned and Karissa and Todd could rest easy knowing that the details would not be forgotten. The wanted an outdoor wedding, and decided that North Lake Tahoe would be the perfect location. The private luxury community of Martis Camp turned out to be a perfect venue choice to suit their picturesque day, with its abundance of natural textures and sophisticated scenery of the High Sierras.
The Ceremony: With fall at its peak, the theme colors of vivid green and soft white created a natural motif throughout the ceremony, where it was obvious love was in full bloom. Her father shared loving words of wisdom as he walked her down the aisle in her Monique Lhuillier gown to the sweet sound of the String Beings on September 15th, 2012. The couple said their vows to a backdrop of sweeping hills full of pine trees, as the breeze softly gave movement to her veil.
The Reception: As the guest gathered at the reception they sipped on Rose Estate Grown Champagne, or if they preferred Todd's favorite, Vesper Martinis, and enjoyed specialty catering from Martis Camp. Blush colored roses blended with greenery and baby's breath gave a crisp feeling to the reception, and stood out amongst the silver undertones of the place settings. As the reception lingered into evening, guests could stay cozy with a luxury wrap that was provided by the couple to keep warm as the day cooled down. The toasts that were given at the reception were particularly spot on, and even now, Karissa says that she remembers them vividly as some of the most treasured moments of her wedding day. Needless to say Martis Camp turned out to be the perfect venue, and their day could not have been more exquisite.
For a day that was supposed to be all about them, the Markers could not have focused more on their loved ones and the meaning they brought to their occasion. The couple kept up with their theme of giving, while Karissa gave her bridesmaids Tiffany Dove bracelets to commemorate their contribution to the wedding day, and Todd gave his groomsmen special cufflinks crafted from old nickels. The couples gifts to each other were even more unique; Todd had his grandmother Marker's engagement ring converted into a diamond necklace for his bride, and Karissa hunted down a rare bottle of Todd's favorite Scotch, shipped it from London, and presented it to him with custom engraved glasses which read "May we always find our glasses half full with the good stuff". Their day came to a close surrounded by the most open-hearted energy, and as their new journey as a married couple begins, they plan to embark on many more philanthropic endeavors, just like the one that brought them together years ago. But before they could go diving back into their busy working lives, the couple took off on their honeymoon to Maui and enjoyed their newlywed status in true Hawaiian fashion.
Wedding Vendors: Photographer : Catherine Hall, Catherine Hall Studios | Wedding Venue : Martis Camp | Wedding Coordinator - Janel Ellefsen, Occasions, LLC | Dress Designer : Bliss by Monique Lhuillier | Hair : Jordon Duncan | Makeup : Nyla Fritz | Groom's Wardrobe Designer : Wall Street Clothiers| Shoe Designer for Bride : Christian Louboutin | Shoe Designer for Groom : Ferragamo | Bridesmaids Dresses : J. Crew | Bride's Jewelry and Accessories : Paris by Debra Moreland | Invitations & Wedding Paper Goods : Merchants Design | Officiant : Sam Chapin | Florist : Martha Bernyk, Tahoe Florist | Ceremony Music : String Beings, String Quartet | Reception Music : Larry Williams | Transportation : Bell Limo | Rentals & Lighting : EventMasters | Linen : Choice Linens