When bride Molly envisioned her wedding, she foresaw a celebration where she, her fiancé and guests were surrounded by flowers. And that is exactly what she got. With the help of Lake Tahoe florist
B&B Flower Designs
and the wedding planners at
Once Upon a Time Events
, Molly and Brendan's lakefront wedding was filled with beautiful, brightly colored wedding flowers—in Molly's favorite color, PINK! The decor and design was perfectly complimented by neutral colored linens and dark wood farm tables from
Camelot Party Rentals
. See all the gorgeous details captured by
Motivity Films
and
Handlebar Studios
below: https://vimeo.com/108179072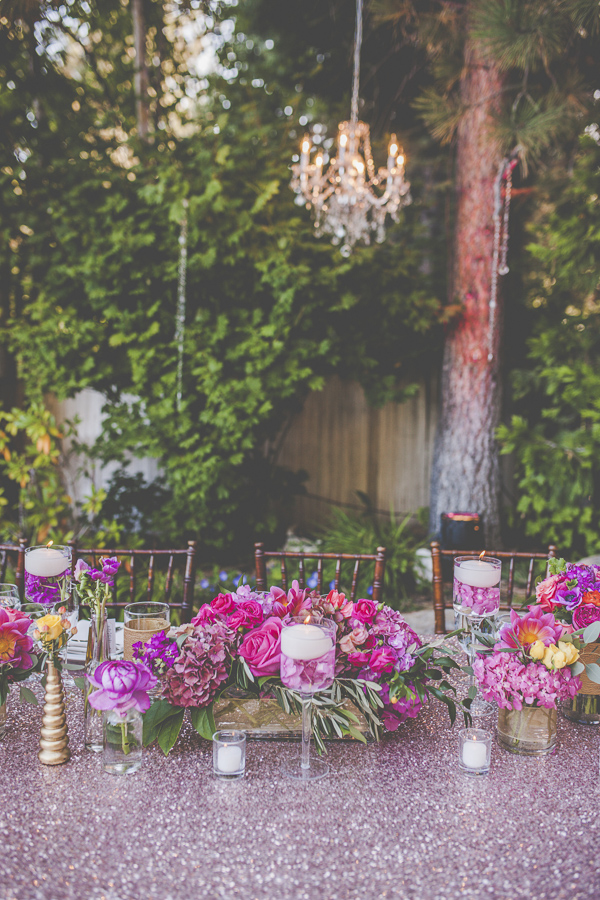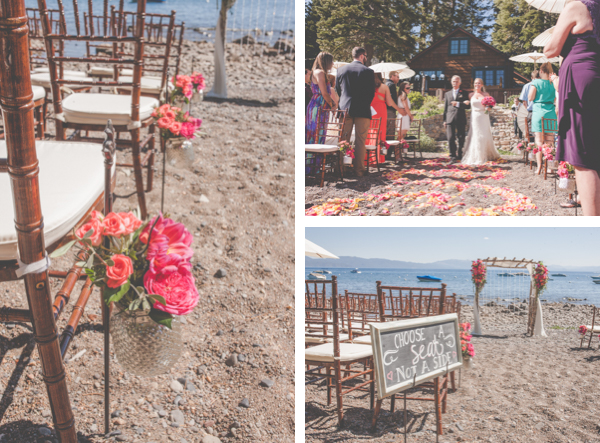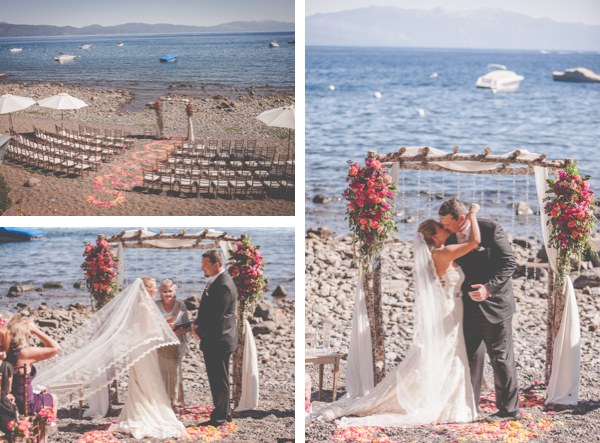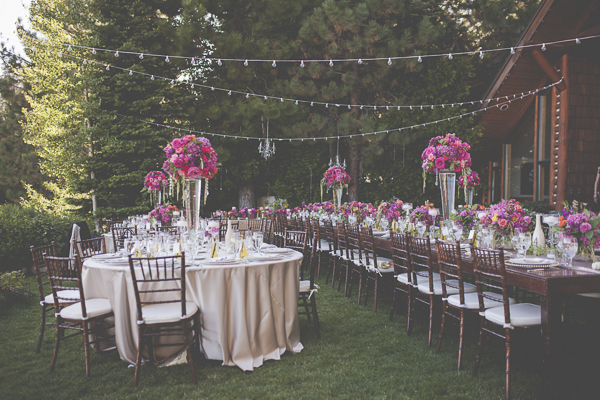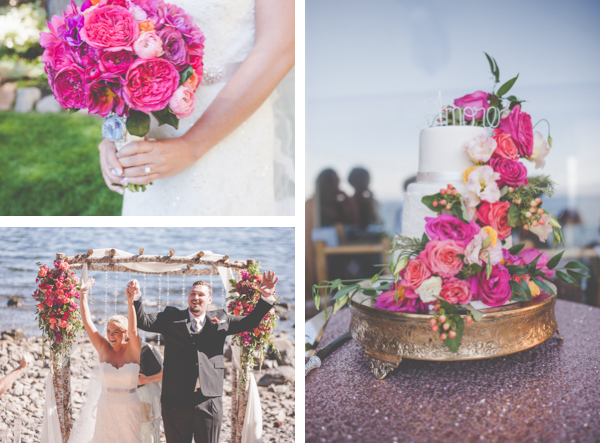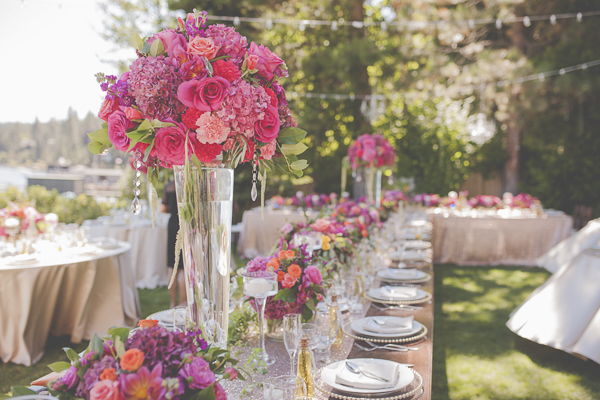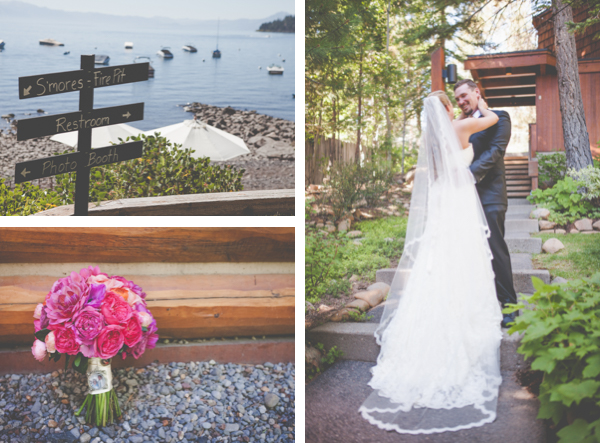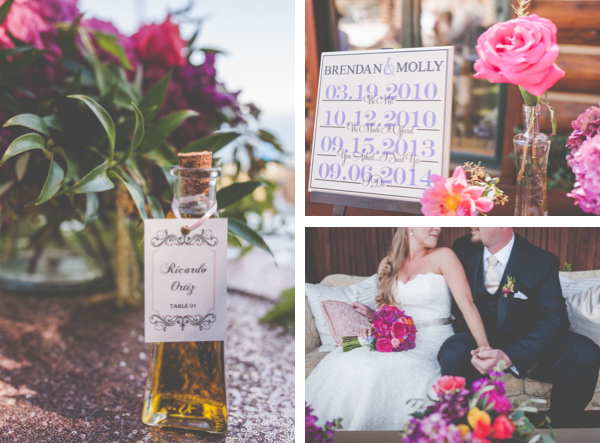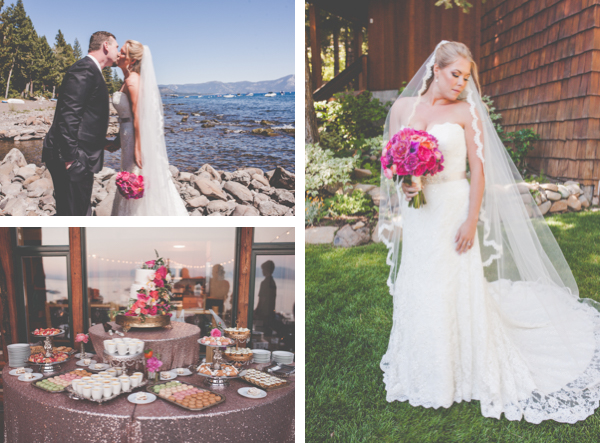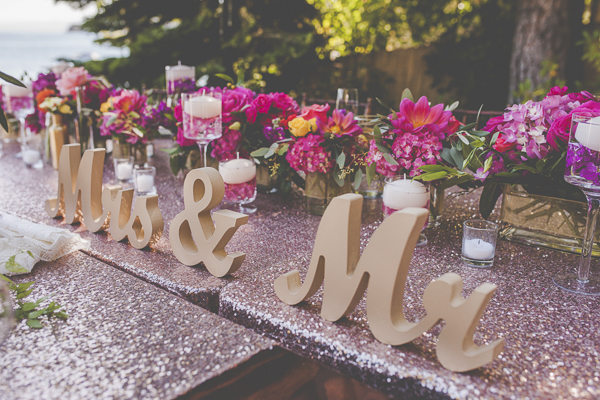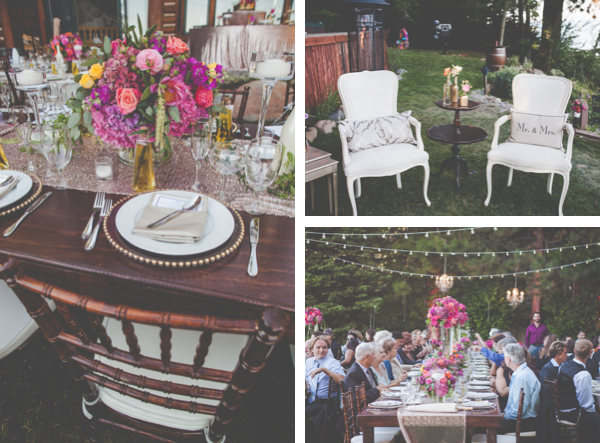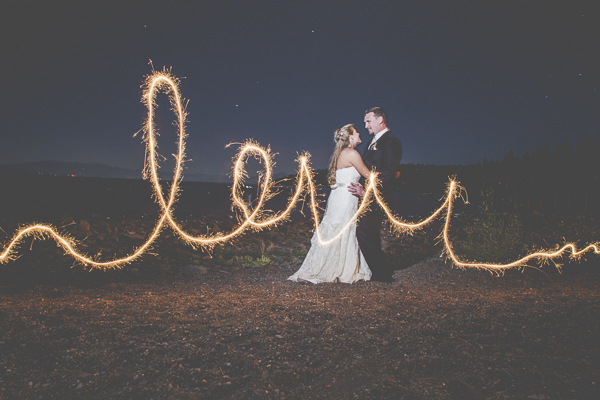 From the beautiful bride ~
We wanted our wedding to be an intimate celebration highlighting our love for each other and our hometown of Lake Tahoe. When we got engaged, Brendan and I decided right away that we wanted to get married on the lake. We both grew up on the North Shore and we reunited there three and a half years prior so sharing the majestic beauty of our home with all of our guests while showing them a wonderful time seemed like a no brainer. The beach is also my favorite place and I couldn't think of anything better than having my toes in the sand while marrying the man I love.
Our venue was a Private Lakefront Estate located in Carnelian Bay. It was one of the first places that came to my mind when we started talking about venues. My Maid of Honor grew up nearby and are friends with the owners so it was a property that I was very familiar with and grew up loving and admiring for its beauty. It had everything we had imagined for our wedding....Lakefront with beach access, private and intimate with a gorgeous view as well as uniqueness as there had only been three other weddings there. I was so happy when Brendan saw the property and fell in love with it just as much as I did!
We wanted our ceremony to be short and sweet, highly personal with a good dose of humor thrown in. We decided to write our own vows and a very close family friend was our officiant. We also helped write the ceremony and put both of our hearts into it which made the whole experience much more personal for us. We performed a sand ceremony with the sand in my vase coming from my favorite beach in Lake Tahoe while the sand in Brendan's vase was from his favorite beach where he grew up in San Gregorio, Ca. Everyone both laughed and cried during the ceremony, myself and Brendan included, which made it so special and everything we had imagined.
When I envisioned my wedding as a young girl, I always envisioned being surrounded by flowers. They are my favorite thing in the world so I knew I wanted to have a ton of them…everywhere! I also knew I wanted pink as it is my favorite color, but not too much pink for Brendan, so with the help of our wonderful wedding planner we settled on bright colored florals with neutral tones. From there and with the few ideas Brendan and I had, our planner helped us create the wedding of our dreams. It was more beautiful than anything Brendan and I had imagined and it was also a ton of fun!!! Our number one priority for our reception was that all of our guests had fun and were comfortable even if they did not enjoy dancing. So besides a killer DJ, we had a digital photo booth, a fire pit with lounge chairs and s'mores, a lounge area with couches along with a full dessert and candy bar. We got engaged in Rome, Italy so we also incorporated some Italian decor and other elements, such as homemade rosemary infused olive oil favors, Jordan Almond favors, and our menu was written in Italian. We also served a huge Italian buffet with 6 entree options along with olive oil tasting, Italian desserts and a late night pizza bar.
Our wedding day came and went so fast but it was truly the most perfect day ever! We could not have done it without our wonderful parents and the amazing team of vendors we were so fortunate to work with. My favorite parts of the day were the first looks I had with my dad and with Brendan, listening to Brendan recite his vows, the surprise grooms cake I got for him and the tequila toast we had during the reception. Brendan and I both had the time of our lives and we couldn't have asked for a more wonderful day surrounded by our family and friends!
From the photographer, Stephanie ~
I love, LOVE (did I say love?) Molly & Brendan! They are some of the sweetest, most laid back and fun couples out there! I may have said it before but its so great to walk into the bridal room and the mood is light and fun and not stressful. There are many things that attribute to that but the biggest stress reliever for a bride? It has to be a GOOD wedding planner/coordinator. I'm not talking about the ones that come with a venue who are going to throw the basic stuff out and call it a day but someone who can give you a real full service and experience. Someone who will make sure that every detail was thought of and assemble a team to make it happen. Molly got just that when she hired Jessica at Once Upon a Time Events. As soon as we got there Jessica's team was hard at work and Molly was cool as a cucumber!
Molly and Brendan decided to get married at a private estate in Lake Tahoe, CA. and it was beyond beautiful! The view was amazing and the property was completely decked out, dripping flowers which were artistically crafted by Brandie at B&B Floral Design while sparkling chandeliers hung delicately behind the head table. I can't even believe how many details there were so please… Check it out below!! Some of my favorites are the "Cold Feet" Socks, The barber shop setup the guys had brought in, and the cake that simply states "Amore".
Lake Tahoe Wedding Vendors: Photographer :
Handlebar Studios
| Wedding Planning & Design :
Once Upon A Time Events
| Makeup :
McKenzie Morrision Makeup
| DJ & Cocktail Music :
Jeff Jones
| Cake:
Delicious Designs
| Catering :
Roundabout Catering
| Florist :
B&B Flower Designs
| Hair : Shannon Fry | Barber :
Barber Arias
| Videographer :
Motivity Films
| Bridal Salon :
Swoon...A Bridal Salon
| Bridal Gown :
Augusta Jones
| Groom's Attire :
Brooks Brothers
| Bridesmaids' Dresses :
David's Bridal
| Groomsmen's Attire :
Men's Wearhouse
| Rentals :
Camelot Party Rentals
| Invitations :
Paper Moon
| Wedding Venue : Private Estate