He asked, you said yes and now there is officially a ring on it (preach, Beyonce). Now that the shock of the rock has worn off, the real work begins. No more wistful pinning, it's time to make some big girl decisions. This is your day and you'll hopefully only do it once, so let's make it count. First up, the number one question on everyone (well, every woman's) lips: what are your colors? There's a lot to consider when picking wedding colors and I'm here to help by suggesting two that you'll love. Open your heart to a blush and rose gold color scheme at your wedding and let all the hard work fall into place.
Blushing Bridesmaids
Yes, you will be the one that everyone is looking at on the Big Day, but that doesn't mean you shouldn't want your bridesmaids to look their best as well. Seriously, they have to be in the pictures too.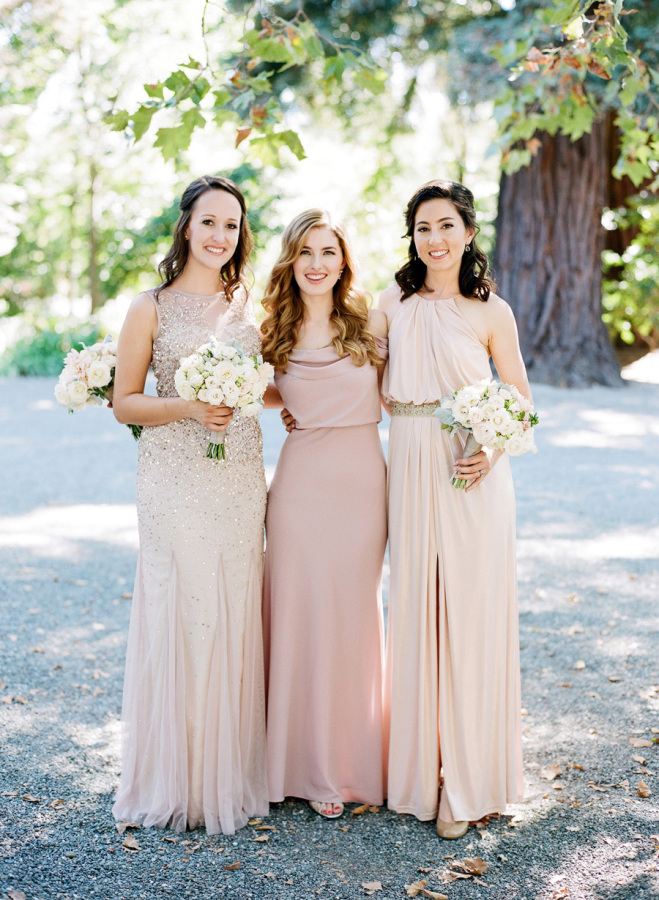 Photo: Jose Villa Photography
Finding the right bridesmaid dresses to flatter all of your best gals is a challenge, to say the least. After all, no two lovely ladies are built alike, so why should we expect the same dress to look equally as fabulous on all of them? Luckily, a blushy rose pink is a flattering color that compliments almost all skin tones, so even Snow White will look rosy in those pics. To celebrate your friends' different heights and sizes, perhaps consider letting your ladies choose various styles of blush bridesmaid dresses. This way no one is forced to wear a dress that makes them feel self-conscious and everyone can wear their best smile in those photos you'll have forever.
Flower Power
Whether you're going subtle (like your mom's hint for grandkids) or big (like your love for Adele), flowers are an excellent way to bring color into any space. Work with your florist to incorporate the right shades of rose gold into your bouquet and center pieces and you'll have the single ladies fighting over that gorgeous bouquet toss in no time.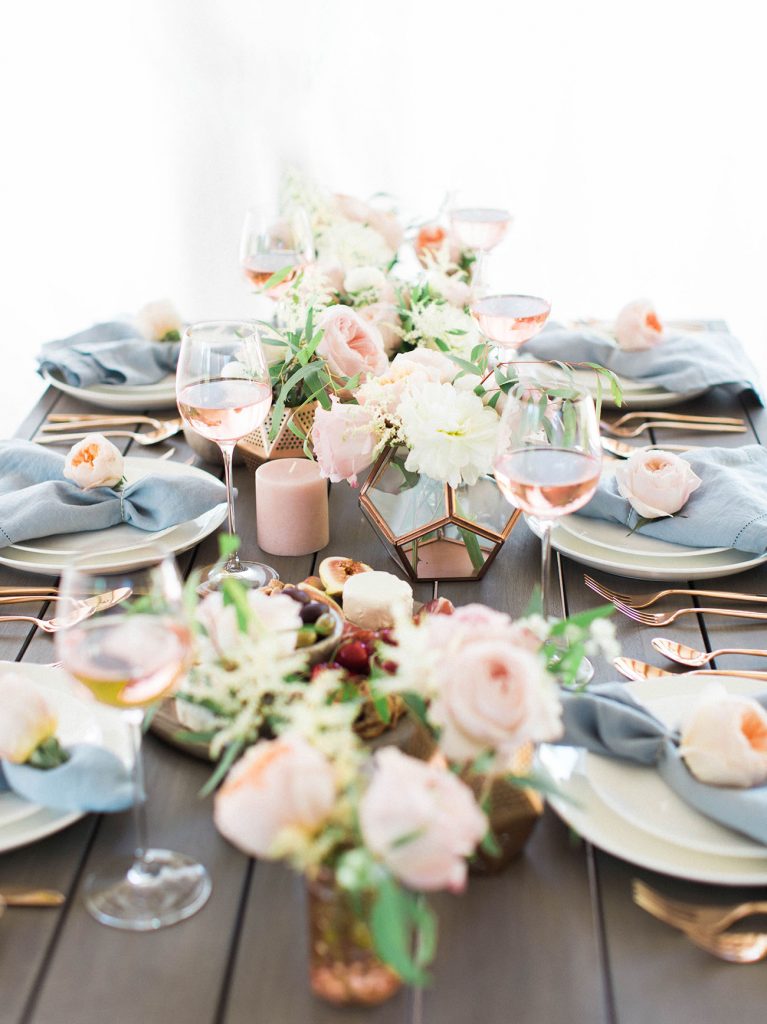 Photo: Katie Shuler
No secret garden here. Speak up and tell your florist the vision you have for that elegant bouquet. For varied shades of blush pink you can't go wrong with peonies or garden roses as you say your 'I do's to the man of your dreams. Don't be afraid to think outside the floral box when putting together a bouquet and spread the sparkle with a little bling on your arrangements for that extra dazzle. Your flower budget feeling a little wilted? Think about using candles or floating votives for the center pieces instead. Even fresh fruit in the right palette will look gorgeous on your tables and leave the guests gushing about your creative ingenuity (yet another reason why he's lucky to have you, of course).
Happy Hour Indeed
Avoid long lines at the bar and offer tray passed signature drinks during the cocktail hour. If you and your honey have a favorite beverage that can be adjusted to fit the color scheme, even better.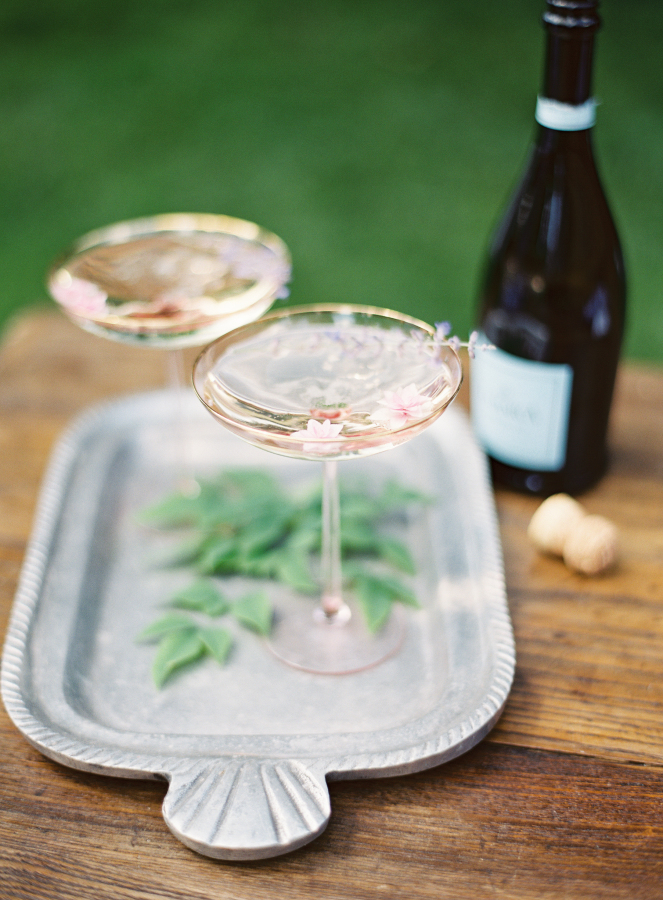 Photo: Brett Heidebrecht
After the best man gives the world's best toast (minus that comment about you in college - - he knows the one) make sure your guests are raising a glass of your favorite rosé as they clink in your honor. After a little bit of bubbly and that signature cocktail, everyone will surely be wearing rose colored glasses and ready to party.
Location, Location, Location
Some brides dream of getting married with the sand between their toes. Others, under a blanket of twinkling stars on a mountain top. A great way to announce your wedding destination is with gold leafed invitations fit for a royal affair (because you're fancy like that).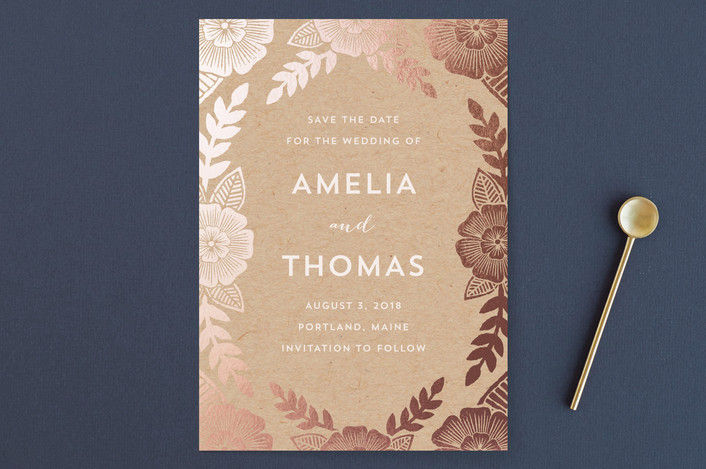 Invite: Minted
Whatever your dream locale, compliment it with the romance of rose gold and it will surely put everyone in the mood for love. Linens and chairs are a great way to tie in your color no matter what the location. If getting married in a ballroom, look for one with a chandelier to add that golden sparkle to your first dance. It doesn't take a lot to bring the right color into your special day and - - unlike your cousin's hemline - - a little goes a long way.
The Cake
The pièce de résistance of any wedding is the cake. Coincidentally, it's also the best part of wedding planning as you MUST try samples from each baker you consider (what we'll do for love).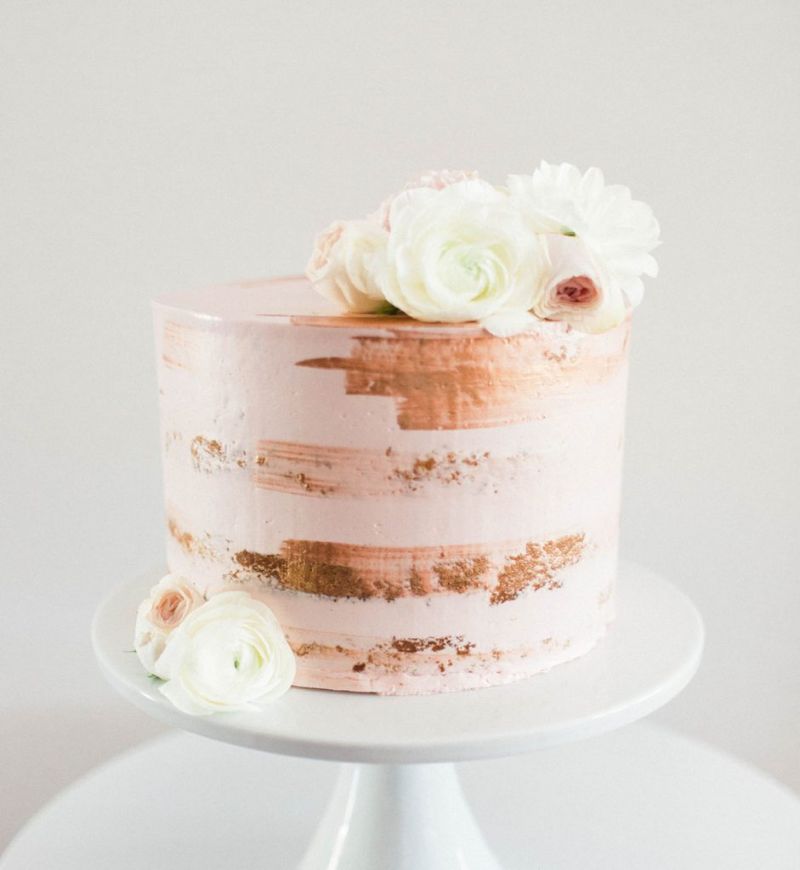 Photo: Katie Shuler
When deciding on the design of your cake, consider your surroundings. If flowers are essential to your theme then you could have your cake decorated with fondant flowers that match your bouquet. Look through magazines for inspiration and if possible bring a picture or sketch of what you want to the bakery. They only have one chance to get it right and you don't want the wrong kind of surprise on your wedding day.
After Party
After the party, it's the after party - - in your honeymoon suite. You guys just had a really big day and it was kind of a big deal. Take a minute to yourselves and enjoy the fact that you'll be staring into each other's eyes every night for the rest of your lives. Ok, now breathe. Time to get busy. Why should the color scheme stop at the wedding? Surprise your new husband with some sexy new underwear or lingerie in your wedding colors and leave him blushing as he revels in your glory. But then again, he's been doing that since you said yes.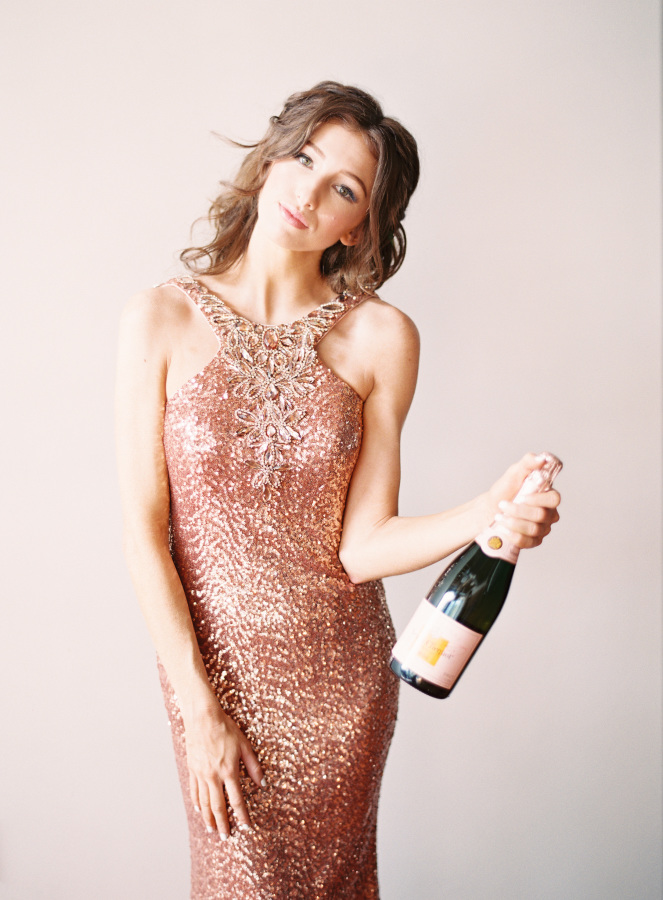 Photo: Sposto Photography Blog in collaboration with guest blogger, Scarlett Olivia of southernstylesquad.com