Kari Spalinger from
Kari Addison Beautiful
is back with her wedding beauty series, and today she is sharing all the secrets to an amazing boudoir shoot.
A boudoir is a lady's private bedroom, sitting room or dressing room. The term derives from the French verb bouder, meaning "to be sulky" or boudeur, meaning "sulky"
.

Make-up for boudoir should really be determined by what you and your fiance find beautiful, or even sexy. When do you feel most beautiful? Is there a specific time of day or any particular moments that stick out in your mind when he's mentioned how incredibly sexy you look? What female celebrities is he most attracted to? Are there any consistencies on their make-up looks? Natural, subtle and sun-kissed like Jennifer Aniston? Or would he enjoy seeing you a little more seductive, mysterious with a red lip and smokier eyes like Angelina Jolie? Don't leave anything out, you can always do both!

What side of you do you want to show through? Remember, you will have these images forever and they will show a more private side of you. What do you want to remember—or him to remember about you—in this time of your life?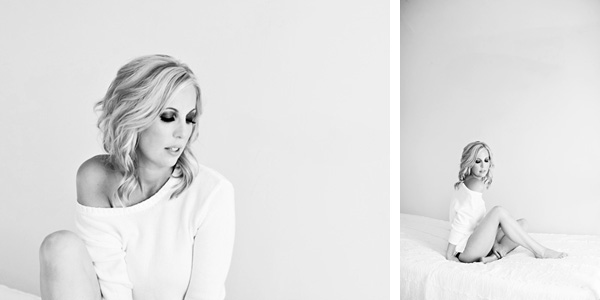 There are also "glamour" or "beauty" photography sessions that may be more your style. Like the images above and below, these are more natural, yet styled shoots. They are soft, artistic and usually more clothed shoots. These aren't, in my opinion, about a different side of you, but you feeling your most beautiful. This means if a cotton tee shirt or loose fitted clothing makes you feel incredible, then this is what you should wear. Either way you go, it's an experience that brings you new confidence. Do your research and find the right photographer and setting for you.

Photography |
Melissa Vossler