Greetings! One again, it's Christie from
Hindsight Bride
. Today I have some inspiration from one of my favorite trends: window pane decor. You know what they say: "One person's junk is another bride's rustic reception decor." OK, maybe that's not the *exact* saying, but it's totally relevant in this case. While I'm at it, I might tweak the expression further and say, "One person's junk is another Bride's eco-chic reception solution." Up-cycling windows for use as seating charts and menu signs is a great way to cut down on paper. It also add the most delightful rustic and vintage charm to any mountain wedding.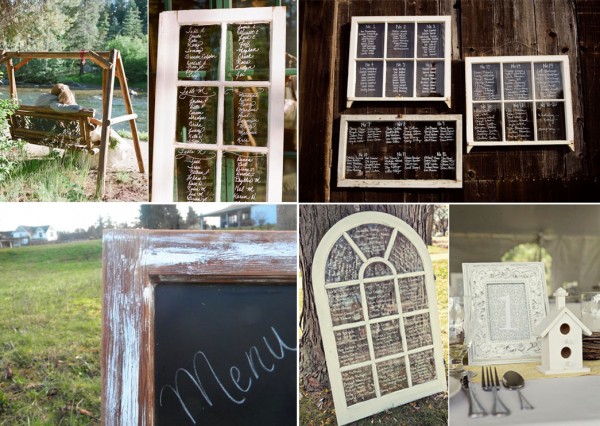 First Row:
Braedon Photography
via
Snippet and Ink
Second Row:
Style and Sensibility
|
Heather Saunders
via
Love and Lavender
Of course, we're talking weddings here, and not every little thing needs to be functional. Curate vintage windows as you would any other prop or decor element. Hang them everywhere. Hang window panes from a tree instead of chandeliers. Hang them behind your dessert table to add dimension and interest. Hang them in your photo booth or along long tables to create a cozy atmosphere. There are so many possibilities. How would you use vintage windows in your wedding?
First Row:
Dana Grant
via
Green Wedding Shoes
Second Row:
Ashley Rose Photography
via
Ruffled Blog