We asked Diana Thale of
Stems by Diana
for her trade secrets to picking the best flowers for each season. Read on to find out which flowers will stand up to the weather while still looking absolutely stunning for your day!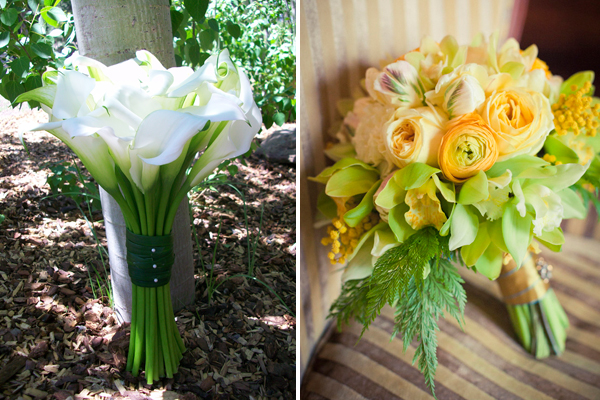 Which flowers do you consider the sturdiest and keep their freshness even without water for your bouquet or boutonniere?
While still remaining elegant and beautiful, (which all flowers hold their own sense of beauty, however I think only a selective bunch can be labeled beautiful and elegant enough for a Bride's bouquet), calla lilies have not only stood the test of time, they've also proved their elegance, stamina, and worthiness for brides all over the world, while also dating back for hundreds of years. I adore these blooms, not only for their linear, "grab your attention" poise, but also for their color variation. They are one in only a handful of stems that will look the same the day after your wedding!
On the opposite end, which flowers are the most delicate or will wilt the fastest?
As beautiful and timeless as they are, lily of the valley will uphold it's reputation for being one of the most delicate choices. I love to work with it as it's fragrance and "bridal" nature is unparalleled, however I always recommend placing it in water immediately after the ceremony, again after pictures, and throughout the evening during the reception to get the most out of the beautiful blooms.

*All floral arrangements designed by Stems by Diana
What flowers do you try to incorporate in colder climates? Also, which are the best flowers to use for each season?
There are certain blooms that everyone thinks of during the various seasons, such as tulips in Spring, peonies in Summer, dahlias or sunflowers in the Fall, and amaryllis in Winter. However, it's always a wonder to me how many variations are available all year long. Tulips for example can be seen in the snowiest December, of course coming from Ireland, not California like in the early Spring and Summer months. Roses are another choice available all year, and even locally grown thanks to greenhouses. Flowers are of course more abundant and bursting with life, color, and variation during the Spring and Summer months, for obvious reasons...probably the same reasons those months hold the most weddings as well. Not to exclude the winter weddings, for those have a sense of luxury all their own, and also have quite an array of blooms to choose from. Roses being the most obvious and abundant, calla lilies, natural berries, rose hips, kale, hydrangea, lisianthus, just to again name a few. Many of these selections come from places like New Zealand, South America, and Costa Rica, where it's warm and sunny while we're wearing down and Ugg boots. However, for the bride's who insist on shopping "local", as long as they're not too picky, local growers are still hard at work growing and cutting certain blooms all year long.
*Thanks for all the great tips Diana! To see more of Diana's work visit her website!