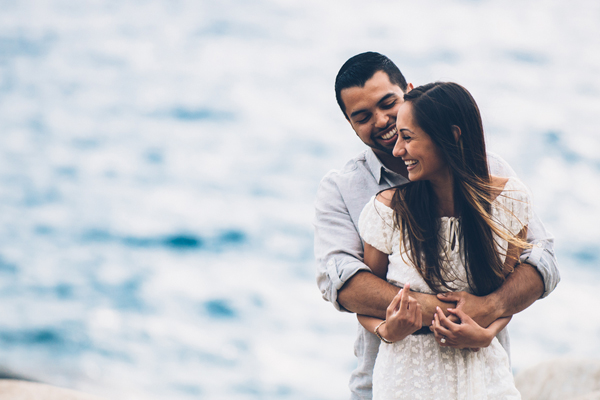 We love seeing beautifully executed Lake Tahoe engagement photos. Especially when the couple is completely adorable, as Paige and Daniel are. Lake Tahoe wedding photographer,
Lauren Lindley
went for a unique look in this engagement shoot, showing Lake Tahoe in a very dramatic way. Lauren describes the day below:
Paige and Daniel have been together 8 years and their intimacy is apparent. They are set to be married on May 15, 2015 in a destination wedding in Las Vegas, NV, where Paige's parents live. When I asked Paige what sort of feel she was interested in for her photo session, she wasted no hesitation in requesting Tahoe beach photos. After moving to Tahoe a year and a half ago from San Diego, they both absolutely fell in love with the beauty and access to the outdoors that the Reno Tahoe area has to offer. They are clearly also in love with each other: during their session they spent most of the time laughing so hard that even I was in fits of giggles. We had an absolute blast running around various locations in Incline Village, NV for their portrait session. Personally, I couldn't have asked for a better way to spend an evening than with this inspiring couple.